Pasta alla Norma – Authentic Sicilian Recipe
Speaking of a perfect pasta, can you imagine anything better than ridged pasta coated with rich tomato sauce, topped with freshly fried sweet eggplants and ricotta salata?
Probably not.
And this traditional Sicilian Pasta with eggplants & rich tomato sauce is a live demonstration.
Now, it might sound biased, but it's one of the best pastas you can have in summer 🙂
August in particular. This is the month when eggplants have the most flavor.
They also tend to have less bitterness in the skin.
And a lot of times, especially with eggplants bought from the local farmers market, it's not even necessary to sweat them (adding salt and letting sit for 10-15 minutes).
Now, I've seen a lot of recipes calling for eggplant strips, or cubes all being mixed together with the sauce, but I assure you, it is an imitation of a true, authentic Pasta alla Norma and not the original.
In Sicily, with spectacular views of Volcano Etna eggplants are placed just on top of pasta.
Oh, just look at those crunchy curves!
You simple stick the fork in eggplant bite along with juicy pasta and large shreds of freshly grated salted ricotta cheese.
One word – divine!
Now, before we get to the recipe, here are a few tips & tricks you should know about.
Pasta
Ridged pasta is best to make Pasta alla Norma. The sauce gets deep into pasta cavities giving it an extraordinary flavor all on it own. But truth be told, classic spaghetti will be delicious with this too.
Eggplants
Use small Italian or Japanese eggplants for the best texture and flavor.
Ricotta Salata
It might be challenging to find Ricotta Salata at your local grocery store. But with technology of today, it's easy to get Ricotta Salata online. And this salty crumbly cheese makes all the difference.
If you absolutely have no way to get ricotta salata right now but still craving for delicious and aromatic Pasta alla Norma try Pecorino Romano, Feta or Mexican Queso Fresco cheese.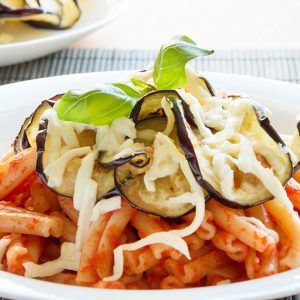 Traditional Sicilian Pasta Alla Norma
Instructions
Eggplants
Slice eggplant crosswise into ⅙ inch thick round slices, discard the ends of the eggplant.

Put eggplant slices into a small colander. Sprinkle lightly with salt and let them set for about 15 minutes. Then, pat dry with a paper towel.

Heat up vegetable oil in a frying pan and fry eggplant roundies in batches flipping sized from time to time. It should be about 3-4 minutes per side, until golden brown.

For the perfect frying, like with everything, the oil has to be hot enough but not smoking.

The best way to test if it's hot enough is to deep a small piece of an eggplant. If it starts to sizzle and float immediately oil is hot enough. If not, give it another try in a few minutes.

Place eggplants on a paper towel to absorb the extra oil.
Tomato Sauce
In a large skillet pan add a splash of extra virgin olive oil and garlic cloves crushed with the flat side of the knife. Remove the garlic once it's lightly brown. Add tomato sauce.

Simmer it for a few minutes until it's slightly reduced. Add fresh basil leaves and a pinch of salt to taste.

While tomato sauce is cooking boil pasta 'al dente' according to the directions on the package.

Drain pasta and reserve some cooking liquid.

Add pasta to a skillet pan with tomato sauce. Give it a quick toss. If pasta and sauce are coming too dry together add a splash of cooking liquid you reserved and some olive oil.
Serving Pasta
Classic Sicilian Pasta alla Norma is served with a heap of fried eggplants on top of pasta. All generously topped with large shreds of freshly grated salted ricotta cheese.
Recipe Notes
Salted Ricotta is an integral part of Pasta alla Norma, and if you have an opportunity, get it by all means. But just in case, the closest substitute for Ricotta Salata will be a mix of quality Pecorino & Feta Cheese.