Sfogliatelle Ricce is an iconic Italian pastry originated in Napoli, Campagnia region.
Super thin layers of crunchy dough filled with delicious orange and cinnamon flavored ricotta cream. They are a dream, a magic and a legend in and of itself.
They're known for being complicated to make and even complicated to explain the whole preparation process.
But let me assure you, with a little bit of patience, a good pasta machine and these step-by-step photo instructions you can easily and successfully learn how to make your own homemade sfogliatelle!
Did I say pasta machine?
YES! If you really want to facilitate the process pasta machine is essential for super thin dough rolling. Not that you can't do it by hand (you certainly can!) but it saves you a ton of energy and time giving a better, quality pastry.
Another essential tool to make sfogliatelle (even if you're going to use pasta machine) is a rolling pin. But I'm sure you already have one in the kitchen.
It's good to have a standing mixer and a food processor, again, to make the life easier, but you can totally do without them.
Sfogliatelle pastries also come in a less complicated version and they're called Sfogliatelle Frolle. The difference is in the pastry. Sfogliatelle frolle are basically made with a kind of a pie crust dough. Sfogliatelle Ricce are made of super thin layers of yeast-free and diary-free dough. But the ricotta cream filling is the same.
By the way, the word ricce in Italian literally means curly.
Sfogliatelle Ricce in an English-speaking world are often called Lobster Tail Pastries.
Sfogliatelle Ricce - Authentic Recipe Step By Step
Sfogliatelle is an iconic dessert made of super thin layers of crunchy dough filled with delicious orange and cinnamon flavored ricotta cream.
Ingredients
Sfogliatelle Dough:
3 ½

cup

18 oz flour

1

cup

water + 2 more tbsp if needed

1

tsp

salt

1

tbsp

honey

4-6

oz

cooking lard or butter
Instructions
Preparing the dough
Add all dry ingredients in a mixing bowl, give a stir, add honey and lukewarm water. Mix well with your hands or in a stand mixer until you get a slightly crumbly dough. If you are going to roll the dough by hand it's best to add another few tablespoons of water to make the dough a bit smoother. But if you're going to use a pasta machine feel free to leave the dough a that "slightly crumbly" stage, it'll all come together later in the process.

Cover the dough with a plastic wrap or linen towel and let rest for 30 minutes.

Past that time divide the dough in 3-4 parts. Take one part and keep the rest of the dough covered to prevent it from drying.

Pass the first part of the dough through pasta machine on the widest setting "0 setting".

Fold it over on itself, rotate and pass again on the same thickness setting.


Pass the dough at least 3-5 times repeating the folding process, until you get a smooth and even sheet. Then set the regulating knob of the pasta machine to the next setting (setting 1) and pass it again several times. Continue increasing thickness setting until you get to the thinnest sheet possible (setting 7-8 on Marcato Atlas Pasta Machine).

You'll need to pass the dough just once on that last thickness setting. I also recommend stopping the machine a couple of times as the dough sheet comes through and roll it up onto the rolling pin.


The ends (handles) of the rolling pin should be settled between two water bottles or soup bowls to prevent the dough from touching the table.


Cover rolled dough with a plastic wrap.

Repeat the same process with the remaining dough chunks.

At the end you should get a sheet pastry approx 15 feet long and 5-6 inches wide rolled over the rolling pin.

Prepare lard at room temperature or melted butter.

Start to unfold sfogliatelle sheets from the rolling pin.

Extend the dough sheet over a clean work surface and grease it thoroughly with lard/butter making sure you smear well the edges as well.

You can use your hands if using lard or painting brush if using melted butter.

Place your hands underneath the dough and gently stretch it outwards elongating it to approx. 7-8 inches wide.

Roll the greased piece into a very tight roll and unfold another section. Repeat the greasing, stretching and rolling process until you've used all the dough from the rolling pin.

As a result you should get a very tight kind of dough log. Grease it all over with remaining lard/butter, cover with a plastic wrap and place in the fridge for at least 2 hours or better yet overnight.

If you are short on time you can place it in the freezer for about an hour.

In the meantime prepare the cream.
Preparing the cream:
In a stove-top pot add milk, butter, salt and sugar. Stir well and bring the mixture to boil. Constantly stirring slowly add semolina. Continue whisking to avoid formation of the lumps and cook for 5 minutes. Let cool completely.

In a food processor add cooked semolina, ricotta and an egg. Pulse a few times until smooth and even texture. If you don't have a food processor just use a hand-hold or standing mixer. Add candied oranges, cinnamon and vanilla extract. Mix with a whisk and set aside.
Shaping & Baking Sfogliatelle
Take the sfogliatelle dough log out of the fridge and while it's still covered with a plastic wrap gently but firmly squeeze and stretch it with your hands going from the center towards the sides.

Remove the plastic wrap and cut off uneven side of the log, then cut into approx ½ inch slices.

To form the sfogliatelle cone, take a dough slice and start gently working it with your fingers.

Using your thumbs and a rotating motion push the center of the slice out opening up dough layers and forming a cone shape. Be careful not to push the layers too much apart, you still want them to stay together.

Holding sfogliatella in one hand fill the cavity of the cone with ricotta cream. Make sure to fill with enough cream so that sfogliatelle stay full and puffy. If the cream is not enough they'll simply flatten out in the oven.

Put together the edges of the opening as you can, they don't have to be perfectly sealed. The cream is thick enough to hold in the pastry.

Place sfogliatelle on a baking sheet lined with parchment paper.

Preheat the oven to 380F.

Bake sfogliatelle in a preheated oven for 20-25 minutes until golden brown.

Serve warm sprinkled generously with confectioners' sugar.
Recipe Notes
Butter is needed only if your ricotta cheese is low fat, not buttery and not creamy enough.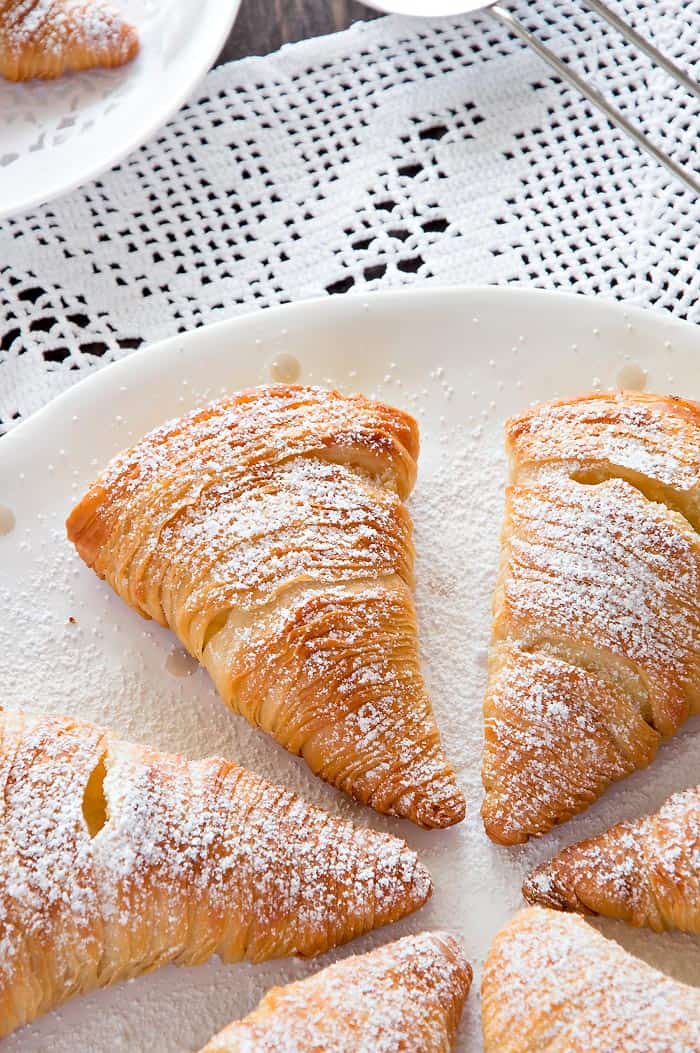 Sfogliatelle taste the best the day they're made, if you have any left for the next day store them in a closed container and reheat in the oven before serving. This way they'll get back the crunchiness on the outside and warm delicious filling inside.
Did you know? The word Sfogliatelle is pronounced as [sfoo-llia-te-lle]. But in Neapolitan dialect you might often hear [schwee-ah-dell].
Buon Appetito!