St. Joseph's Pastries or Zeppole di San Giuseppe are traditional cream filled pastries from Campagna region of Italy.
These pastries is an amazing AND quite simple to make treat all year round.
But they're a MUST-BAKE for Saint Joseph's Day, which is one of the principal feasts in Western Christianity.
And since Saint Joseph is known to be the foster-father of Jesus Christ, in Italy on this day we also celebrate Father's Day.
In the most classic version zeppole are deep fried in extra virgin olive oil.
But honestly, I prefer oven baked zeppole, which is a much more healthier, less messy (which is pretty important) and equally DELICIOUS version.
A few words about the cream filling.
Again, the classic version is pastry cream filling.
But I just ADORE these pastries with a tiny bit lighter and more delicate diplomat cream.
Try it with both and choose YOUR favorite 😉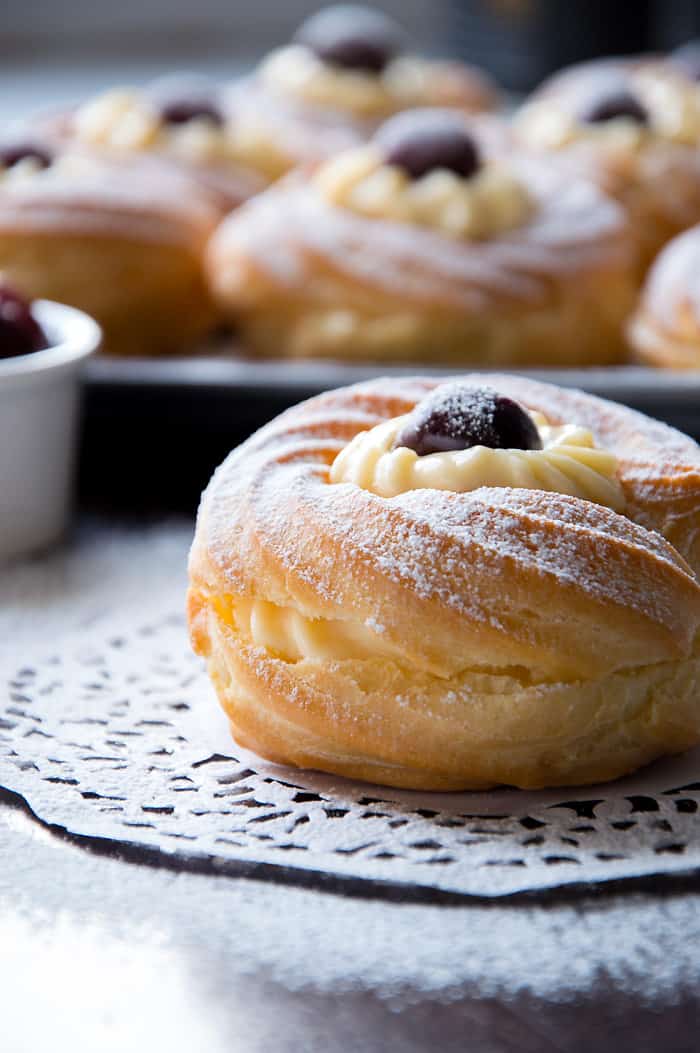 St.Joseph's Pastry - Zeppole di San Giuseppe
St. Joseph's Pastries or Zeppole di San Giusepper are traditional cream filled pastries from Campagna region.
Ingredients
For the dough:
1

cup

water

1 ½

cup

7 oz flour

4

oz

butter

4

medium eggs

½

tsp

salt
Instructions
Pastry Cream
Beat egg yolks with sugar. Add corn starch, vanilla and ½ cup milk. Beat everything well until you get a smooth and even lump free batter .

Heat remaining milk on a stove-top without boiling it.

Turn the heat on low and slowly start pouring in egg yolk batter.

Whisk continuously to prevent formation of lumps and cream sticking to the bottom of the pot. Continue whisking until until the cream starts to become pretty thick and turns into custard.

Be careful not to overcook the cream otherwise you'll get a sweet omelet. Once you see consistency of the cream is thick enough transfer, add butter, whisk until it's completely incorporated.

Transfer the pastry cream in a large bowl, cover with a plastic wrap making it touch the cream. Let cool completely.
Zeppole
In a medium stovetop pot combine water, butter and salt.

Bring to a boil. Reduce the heat to low and add all flour at once. Using a wooden spoon mix energetically until the dough comes together in a smooth ball.

Continue mixing and cooking on low heat for a few minutes.

Transfer the dough into a mixer bowl.

Using a dough hook beat it for about a minute to let the dough cool lightly.

Add to the dough one egg. Beat in the eggs one at a time. Add the next egg only once the previous one has been completely incorporated.

Transfer the dough to a pastry bag with a large star-shaped tip.

Baked Zeppole
Preheat oven to 375F.

Line baking sheet with parchment paper.

Pipe the dough into 3 inch in diameter circles with about an inch and a half hole in the middle.

Make sure to leave enough space between the pastries as they'll double in size in the oven.

Bake in preheated to 375F oven for 25-30 minutes until lightly brown. Don't open the oven during the first 25 minutes. Past 25 minutes open the oven door for a few inches and let zeppole bake for another 5 minutes this way.
Fried Zeppole
Preheat vegetable oil suitable for frying to 375F in a deep sautee pan.

Cut out 3 inch squares of parchment paper or aluminum foil, brush one side of the square with vegetable oil.

Pipe the dough on each square forming a circle.

Deep squares in hot oil a few at a time. The paper will separate from the fritters in the hot oil.

You can remove it using small tongs. Fry zeppole until lightly brown. Discard on paper towel to absorb excess oil.
Fill pastries with cream
Let pastries cool. Cut each in half.

Fill a pastry bag with pastry cream.

Pipe pastry cream on the bottom half of the pastries, cover with top and pipe another star or swirl of a pastry cream on the top.

Decorate with cherries.

Dust with confectioners sugar.
Recipe Notes
Decorate with cherry. You can use simple compote cherries or candied cherries.
My mouth is watering just from looking at the pics 😋
Buon Appetito!