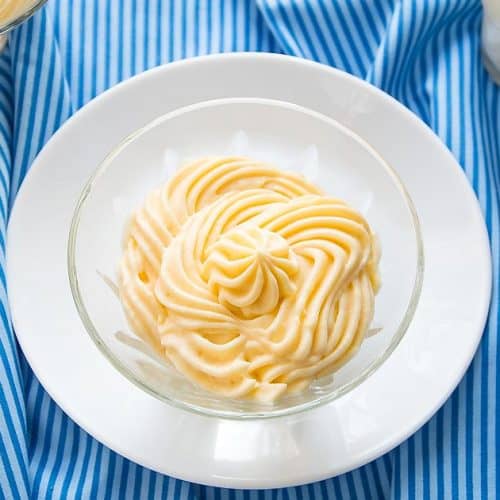 Print Recipe
Diplomat Cream In 3 Easy Steps
Diplomat Cream or Crema Diplomatica in Italian is nothing else but a combination of classic pastry cream and Chantilly cream.
Pastry Cream
Beat egg yolks with sugar. Add corn starch, vanilla and ½ cup milk. Beat everything well until you get a smooth and even batter without any lumps.

Heat remaining milk on a stove-top without boiling it.
Turn the heat on low and slowly start pouring in egg yolk batter.

Whisk continuously to prevent formation of lumps and cream sticking to the bottom of the pot. Continue whisking until until the cream starts to become pretty thick and turns into custard.

Be careful not to overcook the cream otherwise you'll get a sweet omelet. Once you see consistency of the cream is thick enough transfer, add butter, whisk until it's completely incorporated. Transfer the pastry cream in a large bowl, cover with a plastic wrap making it touch the cream. Let cool completely.
Chantilly Cream
With a mixer and a whisk attachment beat the cream until foamy.Add powdered/confectioners sugar, whip cream stabilizer (optional) and continue beating on medium speed until stiff peaks. It should take about 5-7 minutes.

Be careful not to overbeat the cream. Once you feel the cream is ready do a spoon test, if the cream stays on the spoon turned upside down it's ready.It's best to chill the bowl and the whisk attachment in the fridge before beating the cream.Keep in mind that if the cream is not beaten enough it might start to "melt" if left in a warm place.That's why I strongly suggest you use whip cream stabilizer.
Diplomat Cream
Add to the pastry cream a few tablespoons of Chantilly cream.
Whisk gently but thoroughly. Add the remaining Chantilly cream.

Transfer in the pastry bag and use for cakes, muffins, tarts and more.