If you're short on time AND on ingredients frittata can be a life saver.
Translated from Italian frittata literally means "fried". Fried eggs that is.
But not only that. Frittata is like pasta, if you change the condiments you'll have a different dish every single time.
If you think about it, there are at least a dozen of other reason to love on this classic Italian dish.
Universal for breakfast, lunch or dinner. Cut in triangles you can serve it even as an appetizer at your next BBQ party.
Ready at the table in less than 30 minutes.
Frittata is a great way to use leftovers and have a "zero-waste" kitchen.
Requires very few ingredients that you ALWAYS have in the fridge or in the pantry.
If you change the filling you'll have a different dish and different taste every time you make it.
Rich in protein and low in carbohydrates.
Classic Italian frittata is cooked on a stove top. It might a bit challenging to flip it without breaking.
But this oven-baked frittata is 100% foolproof.
If you have a couple of fresh tomatoes and a can of anchovy in the pantry you're good to go.
But if you don't have fresh tomatoes you can use the canned ones equally successful.
You can use both anchovies in oil and anchovies in salt. Just make sure to remove the excess salt.
Note: the best anchovies are of course those in pure olive oil. But if you find one in a mix of olive and vegetable oil feel free to use those as well.
The only advice would be to pay attention to the package. I prefer to buy anchovies in a glass bottle as you see exactly what you're buying and avoid a nasty surprise if you open the can and find mashed fish inside.
There you have it, tips and tricks.
Now, on to the recipe 🙂
Full Recipe
Baked Anchovy Frittata with Tomatoes
Print
Pin
Rate / Comment
Ingredients
4

eggs

2

large tomatoes / or ½ cup diced tomatoes

3

garlic cloves

Handful fresh parsley

(chopped)

Salt

pepper to taste

Pepperoncino

(optional)
Instructions
In a skillet pan add olive oil and garlic cloves crushed with a flat side of the knife.

If you prefer a stronger garlic taste, chop it finely.

Let simmer for a minute or two without letting the garlic burn.

Add fresh tomatoes previously washed, cleaned from the seeds and cut in small cubes.

As an alternative add ½ cup diced tomatoes from the can.

Let tomatoes cook until soft.

Beat eggs with a pinch of salt and chopped parsley.

Pour the eggs over the garlic tomato mix. In a minute, remove excess oil (or salt) from the anchovies and place them over frittata going around the clock.

Place frittata in a preheated to 375F oven for 10-15 minutes to finish cooking.

Grind some pepper and garnish with fresh parsley.
Notes
Do not exaggerate with salt in the eggs. Anchovies are already salty enough and you risk the over-salting.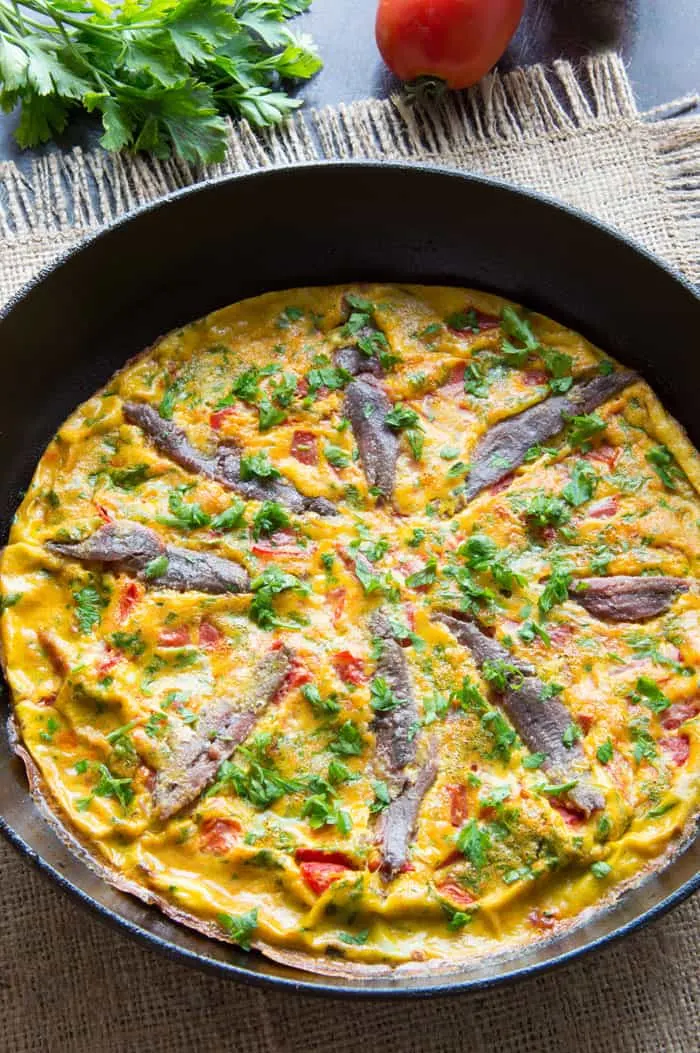 Buon Appetito!