Busiate or busiati is a long, thin, hollow tube pasta, twisted in the way that it resembles a telephone cord.
Busiate are typical to Western Sicily and considered to be an iconic pasta type that represents Trapani region.
In some way it resembles corkscrew or fusilli type of pasta.
BUT they're still FAR away cousins.
Busiate traditionally are made using just 2 ingredients: semola di grano duro (durum wheat flour) and water. Pasta dough is then rolled and cut into stripes about 5 inches long.
To form typical spiral busiate shape each stripe of dough is then diagonally coiled around a metal rod, called "ferro" or "busa".
In Trapani area, "busa" is the name of a special knitting needle.
From ancient times it was usually used to process fabrics such as wool and cotton.
And that's most likely how this pasta got its name – busiate 🙂
Busiate varieties and where to get them
Even though busiate remain most typical to Sicily, especially it's Western part. You can find it there on the menu of almost every restaurant!
But when it comes to purchasing busiate outside of Sicily – online shopping will be your best bet. Either from a gourmet store that exports Sicilian food or, my favorite go-to Amazon friend.
You can find 2 types of busiate:
Busiate made from durum wheat semolina – classics of pasta making.
2. Busiate make with Tumminia (too-mi-nee-a), the most ancient and rare grain variety cultivated in South-West of Sicily, in Castelveltrano in particular (hello again Trapani!).
This grain has a short cultivation cycle (March to June).
Tumminia or also called Timilia wheat is grinded into flour on old stone mills. It's very high in protein and low in gluten which makes it a perfect (and healthy choice).
Yeah, I know healthy might not sounds like the sexiest tern when talking about food, but trust me once you try you'll fall in love with its delightful "bite" that's never gummy. Not like other whole grain pastas!
By the way, Tumminia flour is also used to make the famous Pane Nero di Castervetrano – Dark Bread from Castelvetrano.


As you can probably tell, Busiate made with Tumminia is what I used for this recipe.
And of course, there is no recipe more authentic than Busiate make with Pesto Alla Trapanese – Sicilian almond, tomato and basil pesto!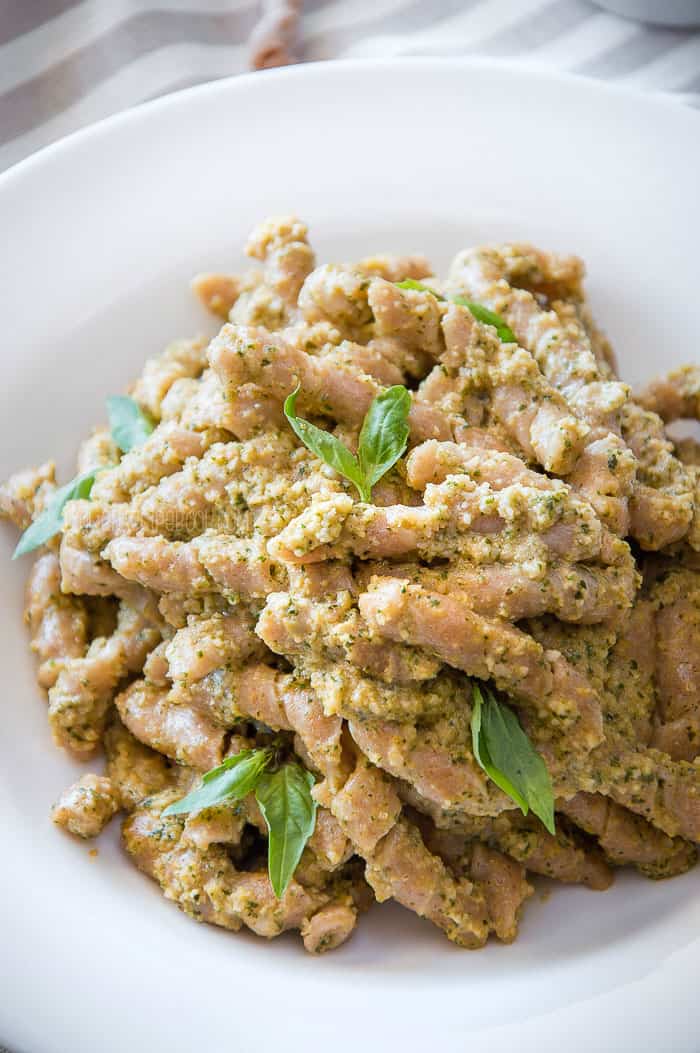 Busiate Pasta With Pesto Alla Trapanese
Busiate pasta with Pesto Alla Trapanese is one of the ancient pasta recipes from Western Sicily. Delicious, simple and unique!

Print
Pin
Rate / Comment
Ingredients
12

oz

busiate pasta

(340g)

½

lb

tomatoes

(250 g)

2

cups

fresh basil leaves

(40-50 g)

⅓

cup

blanched almonds

(60 g)

2

tbsp

Pecorino cheese

, grated

3

tbsp

Extra virgin olive oil

½ - 1

garlic clove

, core removed

Salt to taste

Ricotta Salata OR
For serving:
Toasted Breadcrumbs OR

Pecorino Cheese OR

Plain
Instructions
Make Pesto Alla Trapanese

Blanch Tomatoes: Put a large pot of water to boil (you'll use it for boiling pasta afterwords).

Cut an x into the top of each tomato.

Once water is boiling immerse tomatoes for 60 seconds.

Transfer tomatoes into a bowl with cold water.

Peel of tomato skin.

Remove extra water and seeds.

Place all ingredients except Pecorino cheese and extra virgin olive oil in a food processor or a countertop blender.

Pulse a couple of times until you get even, slightly crumbly texture.

Add Pecorino cheese and extra virgin olive oil.


In the meantime cook busiate in salted hot boiling water until 'al dente' (according to instructions on the package).

Once pasta is ready reserve some cooking liquid and drain the rest.

Return pasta to the pot, add pesto, toss everything for a mere minutes until all the flavors combine. If pasta seems too dry add some cooking liquid you've previously set aside.

Serve immediately!

Top with ricotta salata (salted ricotta cheese) or pecorino cheese or toasted breadcrumbs or simply plain as it is.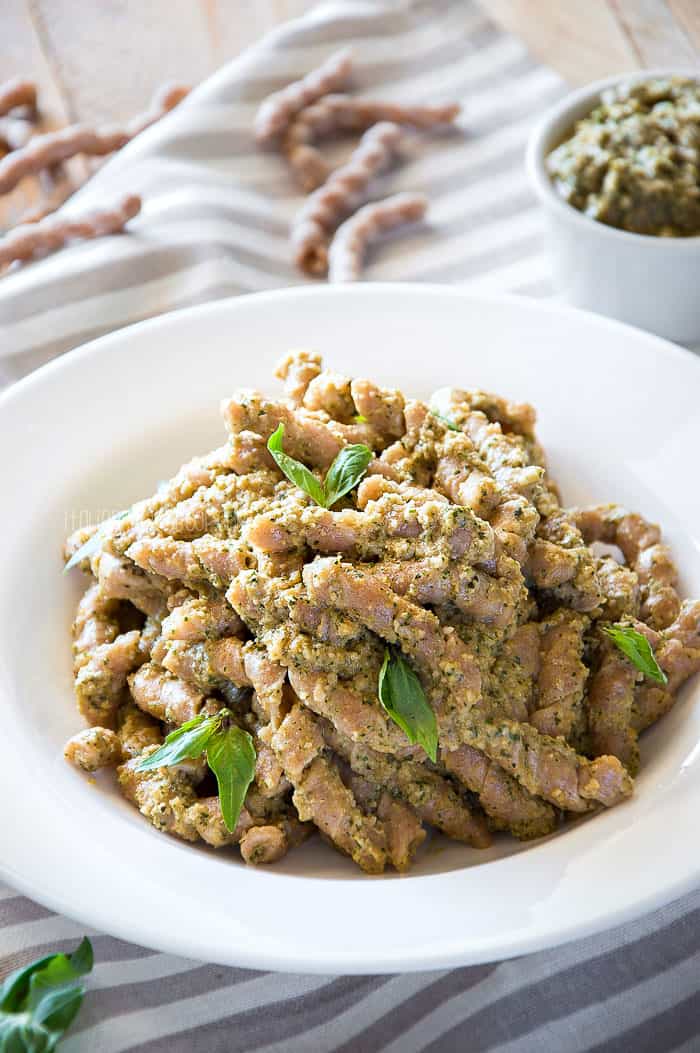 How to cook Busiate
Now you know, Pesto Alla Trapanese is THE way for a fresh pack of busiate. But because its twisted magic shape hangs on the last drop of sauce busiate is one of the beloved pasta shapes for a lot of other recipes. Like:
Pasta with Swordfish & Eggplants
Pasta with Shrimps & Pistacchio Pesto
Now, YOUR turn 😉
Have you tried Busiate or Busiati Trapanesi, or maybe Tumminia Busiate yet?
What's your favorite sauce to soak them up into?