Are you ready to add some chocolate heaven to your life? This easy, creamy, soft and simply melt-in-the-mouth Chocolate Creme Brulee will make you fall in love with it.
Once and for all.
Of course you can use your favorite type of chocolate: dark, milk or white. And that can also add a variety each time you make it.
Just keep in mind that using milk and especially while chocolate will dilute the pure chocolate flavor as we're already using milk and heavy cream to make our creme brulee "milky".
And actually same applies for sugar. A good rule of a thumb is to put at little less and than test and add more before you pour the final mix in the ramekins.
And that's pretty much all need to know to make this delicious, chocolate creme brule at home.
Full Recipe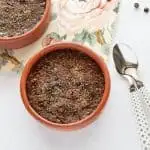 Chocolate Creme Brulee
If you're all about easy, creamy, soft and melt-in-the-mouth desserts – this Chocolate Creme Brulee will make you fall in love with it.
Print
Pin
Rate / Comment
Instructions
In a medium size stove-top pot mix cream and milk. Bring to simmer but not boiling.

Add dark chocolate and whisk until completely melted.

In a separate bowl beat lightly egg yolks with sugar.

Pour egg yolk mixture into chocolate cream mixture continuously stirring. Add vanilla extract and whisk well once again.

At this point I strongly advise you to pass your "soon to be" creme brulee through a fine mesh strainer to remove any possible lumps. But all in all this step is optional.


Preheat oven to 350F.

Arrange creme brulee ramekins in a deep baking pan or casserole. Pour in creme brulee mixture into each ramekin, dividing it equally.

Pour in hot boiling water into the baking pan until it covers about ⅔ of the height of the ramekin.

Place the pan in the preheated to 350F oven. Bake for 30-35 minutes.

Top your creme brulee with brown sugar and place in the oven on broil for another 10 minutes.




Serve warm!
Note: If you have a creme brulee torch you can skip the last 10 mintes in the oven and simply caramelize the sugar using culinary torch.
Easy, peasy, YUMMY!