Fagottini made from fresh pasta dough with savory Mortadella filling are easy, yummy and pretty impressive.
Just look at those beautiful curves 😍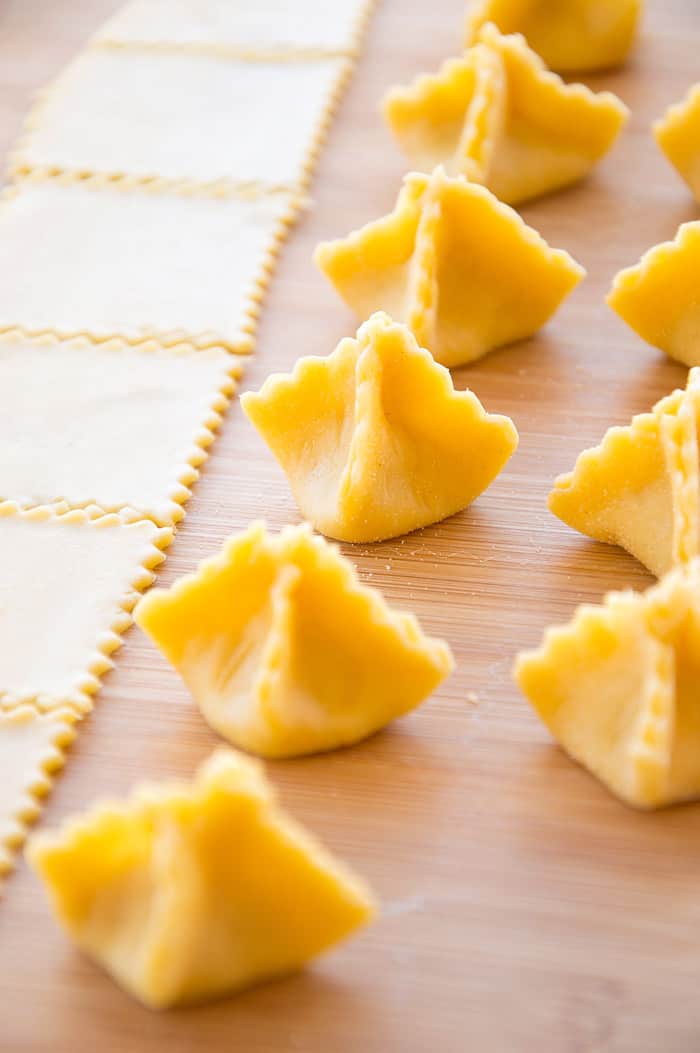 Now imagine how you bite on each piece and feel savory notes of Mortadella and Pistachios bursting with flavor right on your taste buds.
Butter and sage is a perfect condiment that is not overwhelming and pairs perfectly with the rest of the flavors.
If you don't like egg pasta, feel free to use water instead of eggs to make fresh pasta dough.
Quantity of the ingredients given in the recipes makes about 90-100 fagottini, which is perfect for 4 people.
But of course, feel free to make a double portion to make them in a batch and freeze for later.
See more tips and tricks in the recipe card.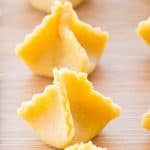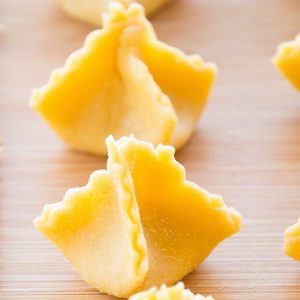 Fagottini Pasta with Mortadella and Pistachios
Fagottini made from fresh pasta dough with savory Mortadella filling are easy, yummy and definitely pretty.

Print
Pin
Rate / Comment
Ingredients
For the filling:
5

oz

mortadella

5

oz

boiled potatoes

1 medium size potato

2

tbsp

pistachios

finely chopped

2

tbsp

Parmesan cheese

grated
Instructions
Fagottini Filling
Start by preparing the filling. Boil 1 medium size potato, once completely chilled, pass it through potato ricer.

Finely chop mortadella and pistachios. Mix into riced potatoes together with grated Parmesan cheese. Transfer to a a food processor and pulse a couple of times until the filling starts to take a form of paste but still with small but distinctive chunks of mortadella.

Let rest in the fridge while you prepare the pasta dough.
Fresh pasta dough
Measure flour, then sieve it. In that exact order, first measure, THEN sieve.

Add slightly beaten eggs. Mix well until the dough starts to come together. Add extra virgin olive oil.

If kneading by hand, transfer the dough on the table and continue kneading for 5 more minutes until smooth and silky and doesn't stick to your hands.

If the dough seems too dry, add a tablespoon of water. If it is too soft, add some flour.

Cover with a plastic wrap and let rest for 15 minutes.

Using a large rolling pin roll the dough approximately 1/16 inch thick. That would be 1½ millimeters.

If you're using Marcato Atlas pasta machine, place regulating knob on position 5.Sprinkle with flour as needed to prevent the dough from sticking.


Place a small dollop of Mortadella filling in the center of each square and start to fold.

Press lightly to make sure that fagottino will not fall apart.

And Voila!

Repeat the process with the rest of the dough.
Notes
The Dough: Cut and roll dough in chunks, leaving the rest of the dough covered with a plastic wrap. If you roll and cut all the dough at the same time it'll get dry and will crack when forming fagottini. Preparing in advance: you can easily freeze fagottini on a tray or sheet pan. Once they're hard enough, place them in a freezer bag and cook in salty boiling water as needed.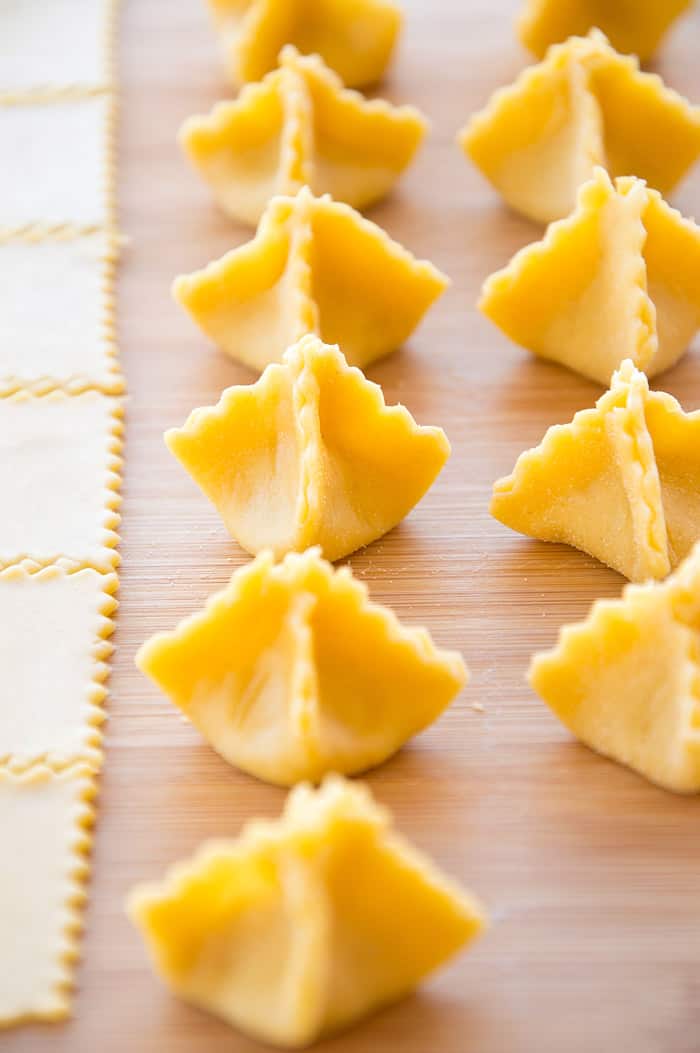 How To Serve Fagottini
If fagottini are fresh made, cook them like regular pasta, in salty boiling water. It'll take 2-3 minutes after they rise to the top.
If you are cooking frozen fagottini, non need to defrost them. Just increase cooking time to 5-6 minutes.
While fagottini are cooking, in a skillet pan melt a few tablespoons of butter with a couple of fresh torn sage leaves (dry sage will work as well).
If you like add a garlic clove crushed with a flat knife to lightly infuse the butter.
Drain fagottini right into the skillet pan. Toss quickly and serve with freshly grated Parmesan cheese.