Are you in love with classic Italian Tiramisu? How about trying tiramisu in a cup?
Coffee soaked ladyfinger biscuits layered with delicious melt-in-the-mouth mascarpone cream and served in individual cups. Simply irresistible!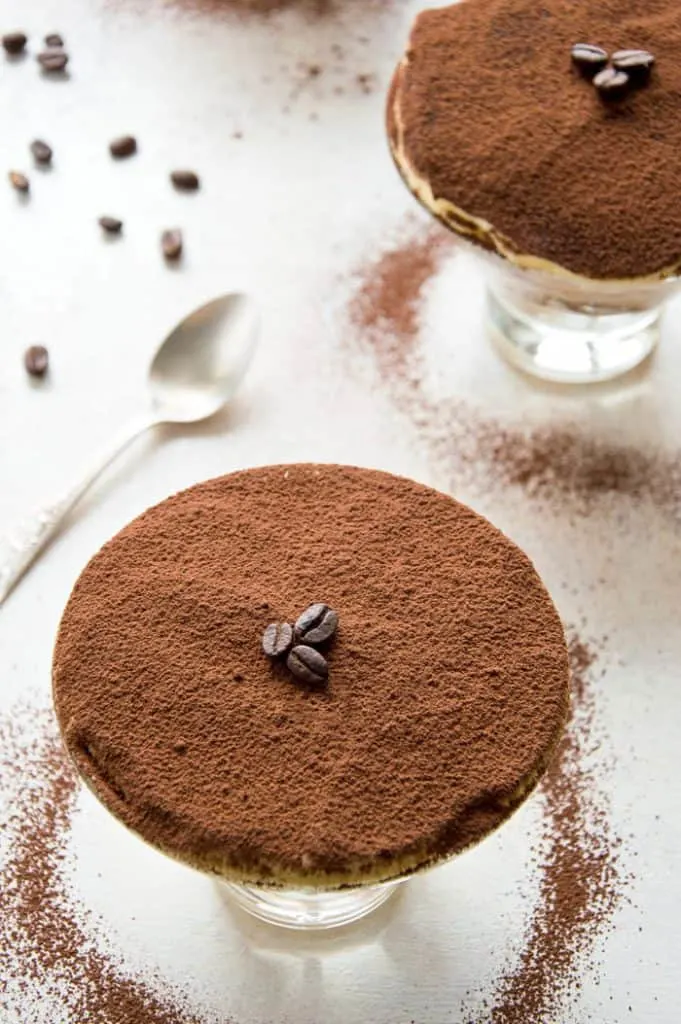 Easy and utterly delicious tiramisu cups is a perfect dessert for any occasion, but to me it's an absolute must for St. Valentines.
It's time to treat yourself!
IMPORTANT NOTE: use the most fresh eggs that you can get.
If you have any doubts, read below how you can pasteurize eggs for tiramisu.
Full Recipe
Tiramisu Cups
Coffee soaked ladyfinger biscuits layered with delicious melt-in-the-mouth mascarpone cream and served in individual cups. Simply irresistible!
Print
Pin
Rate / Comment
Instructions
Separate egg yolks from the egg whiles. Be very careful as you do that. You don't want even a teeny tiny spot of an egg yolk in egg whites, as it'll prevent egg whites from whipping.

Using a mixer beat egg yolks with approximately half of sugar. Beat on high speed at least for a few minutes until egg yolks become pale yellow and very creamy.

Add mascarpone cheese a few tablespoons at a time and continue beating once you get all smooth consistency.

In a separate bowl using clean whisk attachment beat egg whites with a pinch of sugar. Once they become really foamy add remaining sugar and continue beating until stiff peaks. When you lift the whisk the peaks do not curl and remain straight up.

Fold beaten egg whites into egg yolk/mascarpone mix. IMPORTANT: Add egg whites a few tablespoons at a time and perform a folding move from the bottom of the bowl curling over the top. Do this as gently as possible in order not to crush light and airy texture of the beaten egg whites.

NOTE: you might not use ALL of the egg whites. Stop when you feel you've reached the desired consistency of the cream. It should not be too liquid.


Transfer the cream to a pastry bag and let it cool in the fridge for about 30-60. You can do without pastry bag too but I find it much easier that way.

Pour strong coffee into a shallow dish, add rum or brandy to taste.

Pipe a thin layer of cream onto the bottom of the cup.

Cut a piece of

savoiardi cookie

to fit the bottom of the glass and deep it quickly in coffee.

Place on top of the cream. Pipe another layer on top of savoiardi and dust with dark cacao powder.

Again, deep a piece of savoiardi cookie in strong coffee, place on top, cover with a layer of cream and cacao powder.

Repeat the process until you fill the cup.

Top layer should be finished with cream and dusted with cacao powder.

Let tiramisu cool in the fridge before serving.

Dust with more cacao powder and decorate with coffee bean (optional).
Double ingredients if needed.
How to pasteurize eggs for Tiramisu
Pasteurizing egg is very easy. In fact, it takes just an extra minute more to do so.
Here's what you need to know:
Eggs should be at room temperature once you start working with them.
Separate egg yolks from the egg whites and have them in two separate bowls.
In a small pot add 2 tablespoons on water and sugar (according to the recipe). Bring it to boil but without letting the sugar burn or even brown.
Use half of the boiling syrup to beat egg yolks (you don't need any more sugar just what was in the syrup).
Use the remaining half of the syrup to beat with egg whites.
Tip: reheat the remaining syrup before adding it to the egg whites.
Next proceed with the instructions in the recipe without any changes.
Yum!!