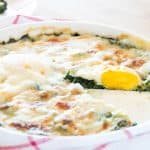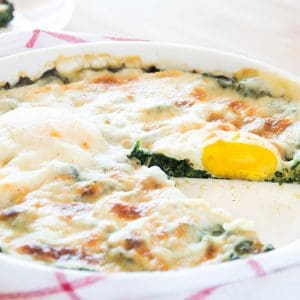 Print Recipe
Baked Spinach Florentine Style
Your favorite spinach baked with eggs in a delicious creamy sauce - Spinach Florentine style! A perfect side dish brunch meal all on it's own.

If you're using pre-washed baby spinach pass directly to the next step.

Otherwise thoroughly wash spinach leaves under cold running water, cut off or pinch off the stems.

In a large skillet pan add a splash of olive oil, a pinch of pepperoncino (chili flakes) and top with spinach.

Cover with a lid to create steam. Cook spinach for a few minutes with a steam stirring from time to time.

In the meantime prepare the sauce.

Mix flour with some milk until creamy and lumps free. Add the remaining milk. Continuously stirring and heat the sauce on low heat until it starts to thicken.

Grease a baking dish with butter and spread evenly cooked spinach.

Spoon out two holes in spinach and break an egg in each. Salt and pepper to taste.


Top with Parmesan cream sauce and more Parmesan cheese.

Bake in a preheated to 375F oven for 15-20 minutes until light golden brown.