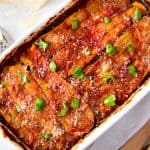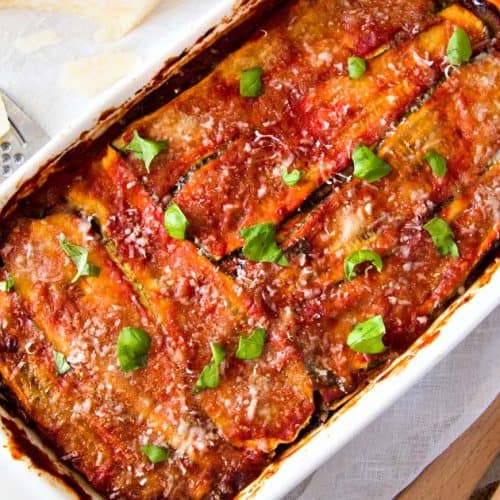 Print Recipe
Skinny Vegetable Lasagna with Tomato And Basil Pesto Sauce
Super light, low in fats but so satisfying this vegetable lasagna is perfect for hot summer days.

2

eggplants

(700-800g)

2

zucchini

(600-700g)

3

cups

tomato passata

(tomato pure)

2

cups

Parmesan cheese

, grated

1

jar basil pesto

Handful basil leaves

3

garlic cloves

Peperconcino

(chilli flakes) to taste
Wash and dry veggies with a paper towel.

Cut off tops and bottoms.

Using a mandoline slice slice zucchini and eggplants into 2 mm (1/16 of an inch) slices.

Place them in one layer on a baking sheet lined with parchment paper.

Baked in a preheated to 375F oven: zucchini for 5 minutes, eggplants 7-8 minutes.

In the meantime prepare the sauce.

In a saute pan add splash of extra virgin olive oil, garlic cloves crushed with a flat knife and a pinch of peperconcino (chili flakes). Add tomato puree and basil leaves and leave to simmer on low heat for 10-15 minutes. Add a bit of water if the sauce becomes too thick.

Taste for acidity and add a teaspoon of sugar if needed.
Arrange Lasagna in a Casserole.
At the bottom of casserole spread a few tablespoons of tomato sauce.

Put a single layer of eggplants, add tomato sauce, top with grated Parmesan cheese.

Layer next zucchini, spread a thin layer of basil pesto, top with Parmesan cheese.

Repeat steps 2-3 finishing lasagna with tomato sauce and Parmesan cheese.

Bake in a preheated to 350F oven for 20-25 minutes.