Pignolata is one of the most simple and delicious Italian treats typical for Christmas and Carnival season. Slightly crunchy fried dough balls coated with honey and lemon zest they are simply irresistible.
Pignolata is the name these honey balls are know by in Calabria and Sicily regions (also Pignoccata in Sicilian dialect).
However sweet fried dough is popular all over Italy. For example, Pignolata is essentially the same dessert as Struffoli (Napoli, Campagnia), Cicerchiata (Abruzzo, Marche, Molise), Sannacchiudere (Taranto, Apulia).
All these names represent simple fried dough honey dough balls flavored with lemon or orange zest and topped with rainbow sprinkles.
Curiosity: The name Pignolata comes from the shape of small dough bites that arranged together look like a pinecone or "pigna" in Italian.
Both kids and adults simply ADORE these fried lemon and honey balls.
With few really simple ingredients and unsophisticated preparation it'll sure become one of YOUR favorite Italian Holiday desserts.
How To Make Pignolata Honey Balls – Step By Step
Dough Preparation
Rolling and Frying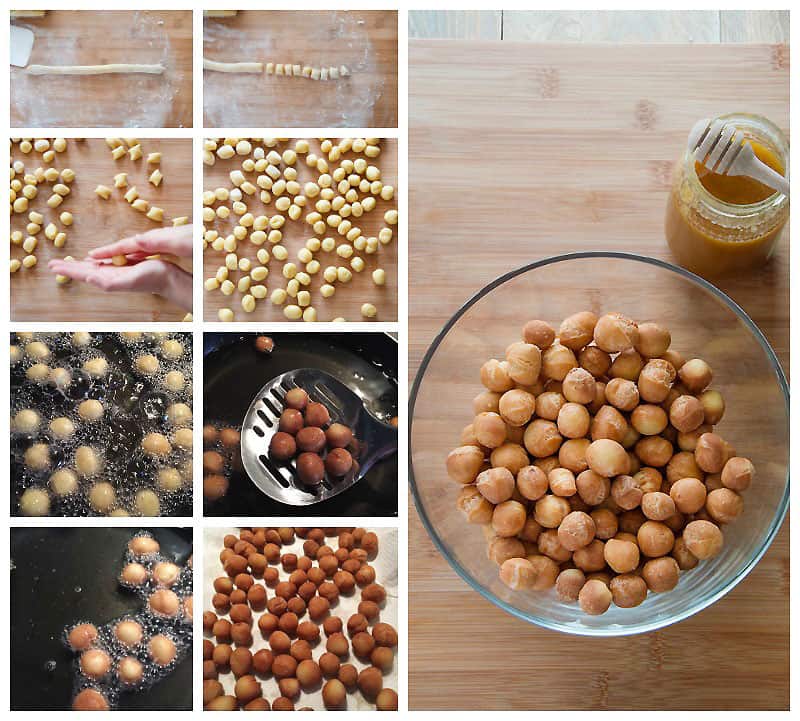 Pignolata Wreath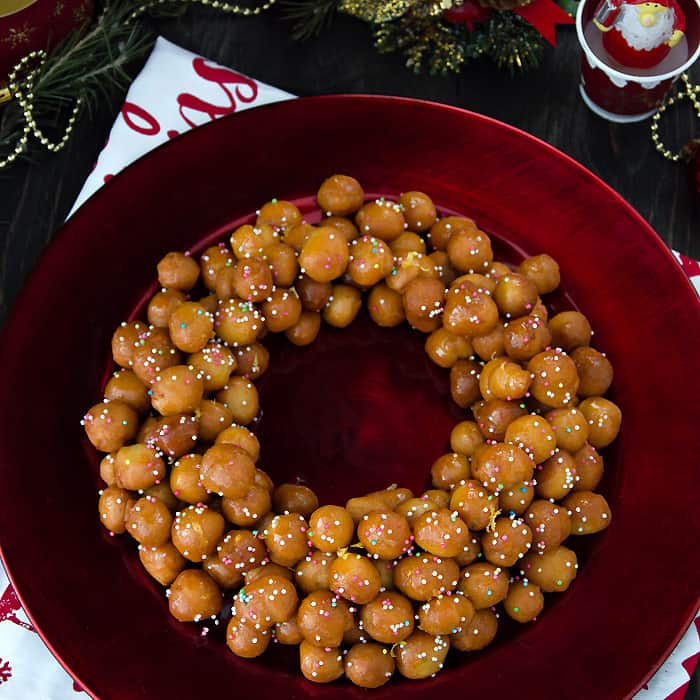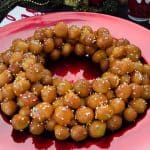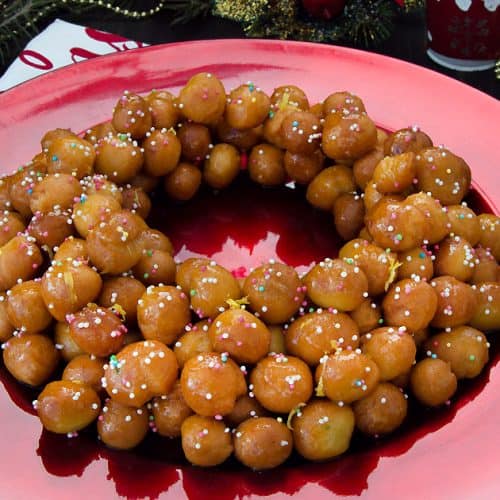 Pignolata – Italian Honey Balls
Struffoli or pignolata are fried Italian honey balls coated with honey and lemon that are typical for Christmas and Carnevale.
Print
Pin
Rate / Comment
Ingredients
For honey coating and decoration:
½

cup

honey

Lemon zest or candied oranges
Instructions
In a large bowl add sieved flour, softened butter, sugar, baking powder and lemon zest. Mix with your hands until you get crumbly texture.

2 cups all purpose flour

,

2 oz butter

,

2 tbsp sugar

,

1 tsp baking powder

,

1 lemon zest

,

2 tbsp limoncello liqueur

Add 2 beaten eggs, mix again until the dough comes together. Knead with your hands for a couple of minutes. As a result you should have a compact ball of dough.

NOTE: If the dough is too hard to knead add a tablespoon of warm milk or water. If it's too loose, add some more flour.

Cover the dough with a plastic wrap and let rest for 30 minutes.

Once the dough is rested, lightly flour the work surface. Cut off a piece of dough and roll it with your hands into ⅓ inch thick rope. Then cut the rope again into ⅓ inch pieces.

At this point you can leave the dough "pillows" as they're, slightly irregular shape, or you can pass each piece quickly between the palm of your hands giving it a round shape.

Preheat vegetable oil for frying in a deep pan to 340F (170C) – perfect temperature for frying.

Make sure to heat the oil on medium heat and use enough of it so that the dough balls float and not touch the bottom of the pan.

If you don't have a kitchen thermometer you can test if the oil is hot enough by simply deeping one ball once you think the oil is hot enough. If it starts to sizzle almost immediately and come up floating, the oil is good to go.

Attention: Oil should NOT be smoking or burning.

Reduce the heat to low or medium low once it reached the perfect temperature.

Deep pignolata dough in preheated oil, small portions at a time to prevent the oil from cooling too much. Fry for approx 4-5 minutes stirring continuously.

Once ready discard fried dough on a paper towel to absorb the excess oil. Repeat the process with the remaining dough.

Once all the dough is fried, transfer it in a deep bowl and top with honey. Mix well.

Arrange on a plate forming a ring shape or a pinecone shape.

Decorate with sugar sprinkles and lemon zest.

Rainbow sugar sprinkles

,

Lemon zest or candied oranges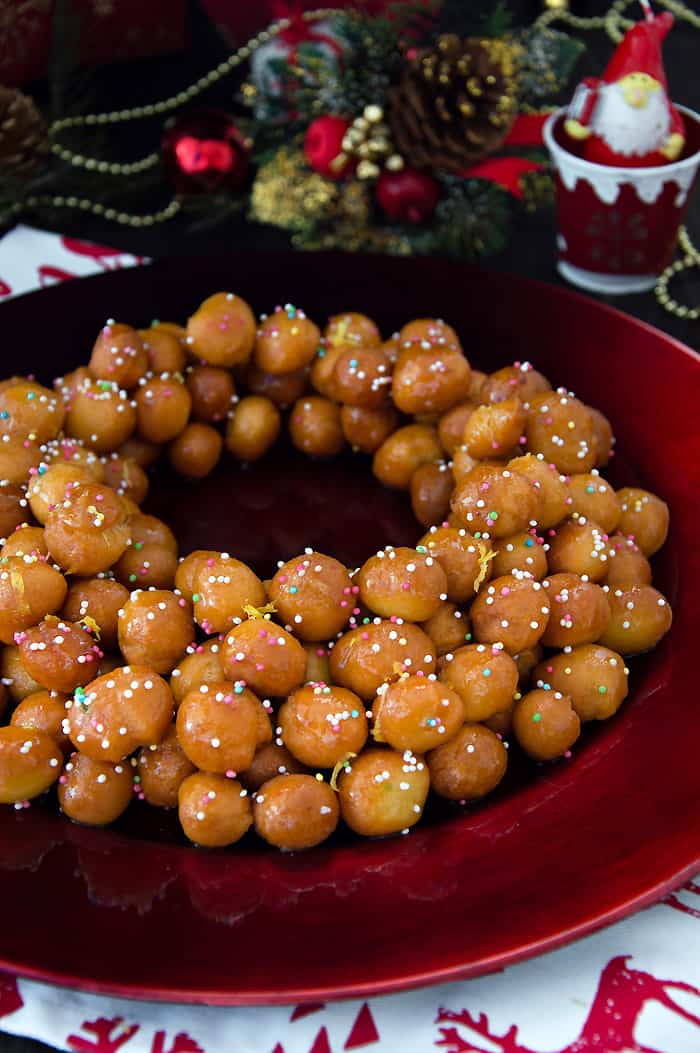 Try to experiment and squeeze some lemon juice on top of the honey before mixing pignolata in the bowl.
This will give pignolata an incredible lemon and honey flavor that's both delicious AND healthy.
Happy Holidays!