Summer time that I have long waited for is here! Long days, LOTS of gelato and unforgettable sea views. But with all that beauty comes the challenge.
When it's past 86F outside and even with AC at about 70F I can hardly get myself to eat anything.
In fact, if you noticed, new recipes has been coming out slower than usual and are super light.
But today I have something really special. Something I couldn't stop eating: hot, warm or even out of the fridge!
Stuffed sweet red peppers with a Mediterranean twist. Meatless, light but full of flavor.
Baked peppers are soft but still have a little crunch to them.
Fluffy couscous on the inside paired with sauteed veggies, garlic aroma and the best canned fish of all – tuna. What can beat THAT kind of meal?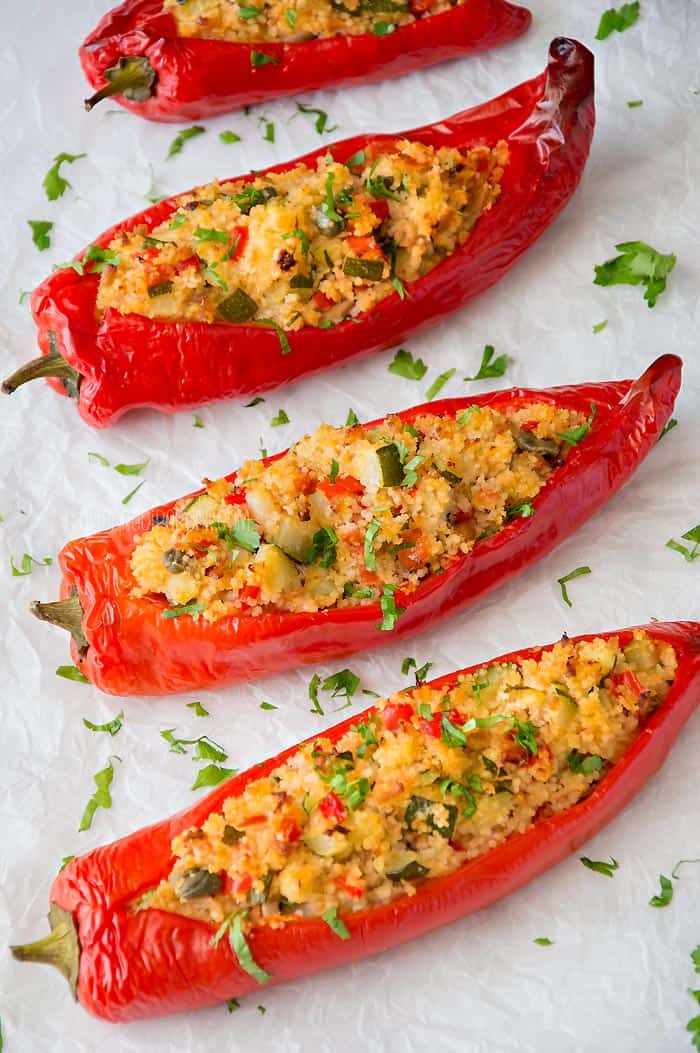 Probably, Parmigiana 😜
But that's a whole different (Italian) story.
Anyway, if you've been struggling with all kinds of hunger during "It's so hot, I can't eat anything" days, this couscous stuffed peppers will be your saver.
Before we get to the recipe, let me say a few words about peppers.
So, what kind of peppers you can you stuff?
Sweet Twisters
Long sweet peppers often reffered to as the sweetest pepper ever. That's what I used this time. And it's absolutely delicious! They come in red and orange colors and you can use both or any that you like.
Classic Bell Peppers (Red, Orange, Green)
The universal peppers for stuffing.
If you got large ones, figure out 2 sides that will lay somewhat flat and stable and cut it in half. If you got the smaller ones, you can work them classic style, cut off the top, remove the seeds and ribs. Save top for later to cover stuffed peppers.
Cubanelle
Another Italian classics which you might have heard of as Italian Frying Peppers.
They come in red and green colors, sweet but mildly pungent they can also work great for stuffing.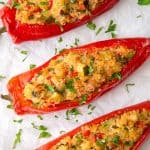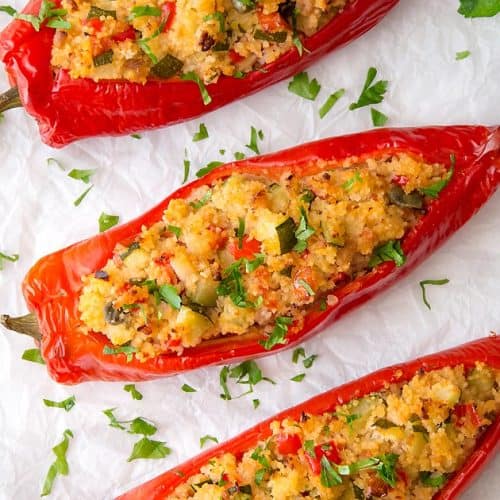 Couscous Stuffed Sweet Peppers
Stuffed sweet red peppers with a Mediterranean twist. Meatless, light but full of flavor.
Print
Pin
Rate / Comment
Ingredients
4-6

sweet red peppers

⅔

cup

pre-cooked couscous

1 ⅓

cup

vegetable stock or water

, hot

1

large can of tuna

(5-8 oz)

1

zucchini

, medium size

1

tomato

2

garlic cloves

peperoncino

(chili flakes) to taste

1-2

tbsp

capers taste

Handful fresh parsley
Instructions
Wash and dry peppers with a paper towel.

If using long sweet pepper: set them on the side that holds peppers stable and cut through the center leaving enough space on the side, top and bottom.
Pull out the seeds and ribs. The cut-out center set aside.

If using sweet bell peppers: figure out 2 sides that will lay somewhat flat and stable and cut it in half. Pull out the seeds and ribs.

Steep couscous in hot water or hot vegetable stock. Cover with a plastic wrap or a lid and let sit for 10-15 minutes, then fluff it with a fork.

In the meantime prepare the veggies.
Cut zucchini, tomato and pepper scraps in small cubes.
In a saute pan add some extra virgin olive and garlic cloves crushed with a flat knife and vegetable cubes.
Sautee for about 10 minutes until tender but stillwith a crunch to the veggies.
Remove garlic cloves and let cool.

Add veggies to fluffed couscous together with flaked tuna, capers (optional) and chopped parsley. Mix gently.

Stuff peppers with couscous.


Arrange on a sheet pan lined with parchment paper.

Bake in a preheated to 350F oven for 20-30 minutes until peppers start to become slightly wrinkled. It'll be easier to peel them if you choose too.
Notes
Enjoy hot, warm or even and room temperature.
Stay fresh and buon appetito!