Let's not talk about canestrelli as classic shortbread cookies from Northern Italy (Liguria and Piedmont region in particular) – even though that IS true.
But what is more important is this.
As you put a cookie in the mouth it immediately feels like heaven.
Delicious lemony flavor, super soft and butter-ly texture with a light crunchy bite.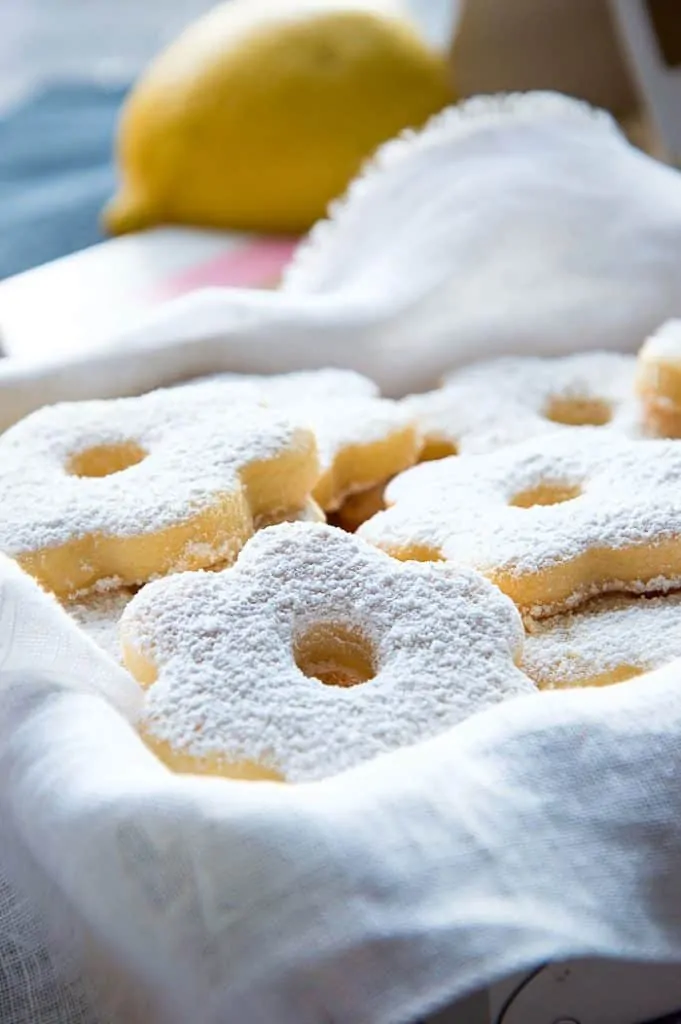 Close your eye and let these cookies just MELT in your mouth 😊
Because they are made with a boiled egg yolk(!), yep something new in the world of shorbread cookies, but that's what helps them stay fresh for DAYS and even weeks. Even though I doubt they last THAT long.

When I think of canestrelli, I imagine them being THE perfect cookies for Santa. Must HAVE on Christmas morning. Served with a glass of milk of course 😉
Canestrelli Variations
Lemon zest of an organic lemon is classics.
But you can use any other flavoring you like. I really love them with orange zest.
Tips and Tricks
Place the dough between two large pieces of parchment paper before rolling it with a rolling pin.
Make a double batch as they disappear REALLY fast.

That's pretty much it. Canestrelli are SUPER EASY to make!
How To Store Canestrelli Cookies
Raw: Make the dough in advance and store it in the fridge for 1-2 days. Let it rest at room temperature for 1-2 hours before making cookies, otherwise the dough will not roll nicely.
Cooked: Baked canestrelli store perfectly well in a closed container for a few weeks.
Full Recipe
Canestrelli – Italian Egg Yolk Cookies
Delicious canestrelli cookies have lemony flavor, super soft and butter-ly texture with a light crunchy bite.

Print
Pin
Rate / Comment
Servings:
3
dozen cookies
Instructions
PREP: put egg in a pot of cold water and bring it to boil. Cook for about 8-10 minutes. Put under cold water to cool. Peel and set egg yolks aside. This step can be done well in advance.

Start by sifting flour, cornstarch and confectioners sugar in a large bowl. Add lemon zest, vanilla (optional) and cold butter cut in cubes. Chop everything with

dough blender

or in a food processor.

Add grated egg yolks and knead the dough by hand until it comes together in a smooth ball.

Cover with a plastic wrap and set aside to rest for about 30-60 minutes.


You can also place it in the fridge overnight but remember to take it out at least 1-2 hours before you start to make cookies.

Preheat oven to 335F (170C).

Cut off a large piece of the dough. On a lightly floured work surface roll it out ⅓ inch thick.

Using a flower cookie cutter cut out the cookies.

Using a straw or other small round hollow tool (see notes for other suggestions) press out the center of the cookie.


Transfer cookies on a baking sheet lined with parchment paper and bake in preheated oven for 10-15 minutes. Canestrelli should remain pale and should not get brown.

Let cookies cool completely on a wire rack and generously dust with confectioners sugar.
Notes
To cut out a center hole you can use plastic straw (if you still keep those), small pastry tip, pen or highlighter cap or even an olive oil bottle cap or leave the flower shape as is!
Have you ever tried canestrelli?
How did you like them? 😃