Green Beans in Tomato Sauce is one of those simple side dishes that can never go wrong.
It pairs perfectly with meat and fish main courses.
But a lot of times, especially on a hot summer we would eat just this. Simple yet filling plate of veggies.
We might add a couple of slices of cold cut meat like prosciutto or Mortadella and call it a meal.
Simple. Healthy. Yummy.
Delicious, rich tomato sauce is perfect to dunk the bread into and scrape every last bit of it off of the plate.
If you happen to have any leftovers they can be used to make frittata the next day.
Green Beans
You can use any variety of green beans you have available. Depending on the variety cooking times will vary. Fresh, young beans also cook faster as opposed to older green beans.
You can also use frozen green beans. Again, adjust the cooking time and make sure you precook them until crisp.
Canned beans can be used as well, but I suggest you reserve as the last option. Always rinse canned green beans before use. Canned green beans don't need boiling and sould be added directly to the pan with tomato sauce.
Tomato Sauce
Use your favorite brand of canned crushed tomatoes. Here's mine.
Of course you can use fresh tomatoes as well. Make sure you use ripe red tomatoes, preferable San Marzano or Roma tomatoes. I've also made these stewed green beans with small grape tomatoes cut in halves. Truly delicious! The taste of each version will be slightly different but definitely well worth a try.
The quantity of tomatoes can also very. If you like green beans to be generously coated in tomato sauce, definitely go for all 2 cups. Use less of tomatoes if you'd like just a bit of tomato bits in the sauce.
You can also make green beans more "soupy" by adding some water in the cooking process. Trust me, you'll want to dunk your bread in it 😋
Full Recipe
Green Beans In Tomato Sauce – Italian Stewed Green Beans
Green Beans in Tomato Sauce is one of those simple side dishes that can never go wrong.
It pairs perfectly with meat and fish main course.
Print
Pin
Rate / Comment
Ingredients
1

lb

green beans

, approx 450 g

1 ½ – 2

cups

canned crushed tomatoes

1

shallot or small onion

, finely chopped

1

garlic clove

(optional)

Pinch

of peperoncino

(chili flakes)

Fresh parsley for garnishing

Salt to taste
Instructions
Wash and trim green beans.

To make the process easier and faster work green beans in small batches.

Line up each batch on one side on a cutting board and trim off the ends with a sharp knife.

Flip the beans around, line up the tips again, trim off the other side.

At this point you can cut trimmed beans in half or leave them as is (which I prefer).

Repeat the process with remaining green beans.

Bring a large pot of water to boil. Add salt and cook green beans just until slightly crunchy. THe should not be cooked to done as they will still continue to cook in tomato sauce.

Cooking time for green beans until desired doneness depends on the variety of green beans, so just check on them after 5 minutes and adjust accordingly.

As an alternative you can steam cook them. More often than not I'll do just that.

While green beans a cooking prepare the tomato sauce.

In a large pan add a generous splash of extra virgin olive oil, hot paper flakes and chopped shallot or onion. If you like you can also add a garlic clove. Cook on medium heat for about 2 minutes until shallot becomes translucent than add canned crushed tomatoes, salt to taste. Stir well.

You can add anywhere from 1 cup to 2 cups depending on how much tomato sauce you want. I usually add somewhere in between – about 1 ½ cup – which is one standard 14 oz can.

Once green beans are ready, drain the liquid (saving some aside) and add them to tomato sauce.

Simmer for 5-10 minutes until green beans are cooked. If needed add cooking liquid from green beans if the sauce starts to get too dry.

Garnish with fresh parsley.

Serve hot, warm or at room temperature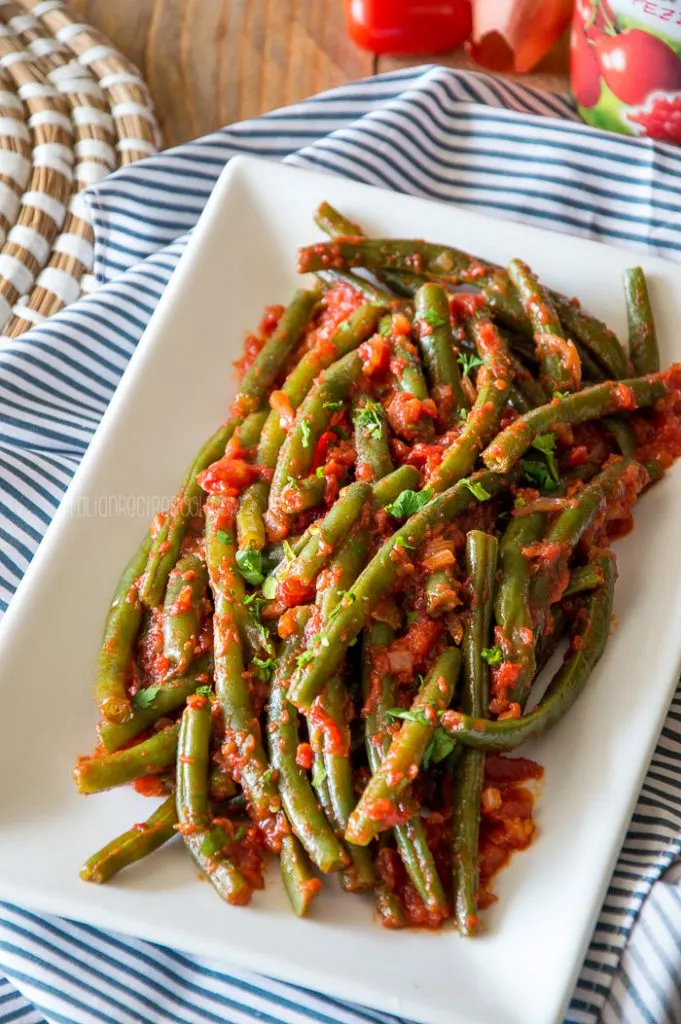 Buon Appetito!