Another summer favorite is coming at you!
If you loved prosciutto and peach bruschetta and that savory-sweet pairing you'll be head over heels with this new summer salad.
Mainly because of the magic milky touch of the Burrata cheese that takes prosciutto and grilled peach combo to a whole new level.
Now, you might be wondering what Burrata cheese actually is.
It looks very similar to Mozzarella and, in fact, the process of making it indeed starts as Mozzarella cheese, with a solid outer shell.
But the real magic happens inside.
When you cut Burrata and milky "buttered" inside cream spills out…
Ohhh, it's OVER-THE-TOP divine!
If you are an avid cheese lover, or like soft cream cheeses with delicate flavors Burrata is NOT to miss.
Look for it at Italian markets, cheese store or ask at specialty grocery stores.
The best Burrata is of course imported from southern region of Italy, Puglia. But I've heard some restaurants have started making solid good versions of burrata in-house.
So if you ever see one on the menu at an Italian restaurant or at a grocery store don't miss the chance to try this fit-for-a-king cheese.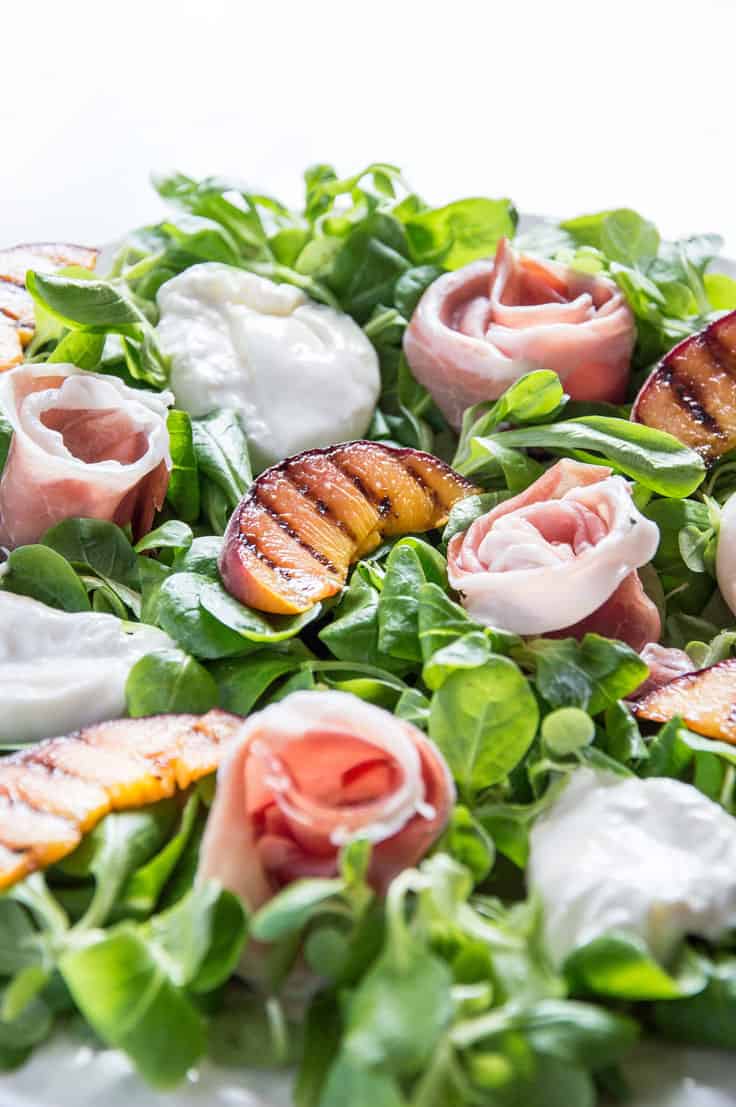 Make this Burrata, prosciutto and peach salad and enjoy classy, delicate flavors of summer all combined in one plate.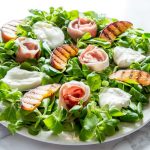 Prosciutto, Grilled Peach & Burrata Salad
Make this Burrata, Prosciutto and Peach salad and enjoy classy, delicate flavors of summer all combined in one plate.
Print
Pin
Rate / Comment
Ingredients
4

oz

prosciutto crudo

raw cured Italian ham

1

large burrata mozzarella ball

1

peach

not too ripe

1

cup

valerian salad or baby greens

Salt

pepper to taste
Instructions
Cut peach in wedges without removing the skin. Sprinkle some olive oil over the grill pan and heat to very hot, avoid burning the oil. Grill peach wedges on both sides until those nice grill marks. Be careful not to overcook as peach wedges may start to loose their form. The secret is to cook for a short time on a well heated grill.

Sprinkle salad greens with extra virgin olive oil and a pinch of salt. Place on a large serving plate.

Roll prosciutto slices into roses. Place on the bed of greens together with still warm peach wedges.

Carefully break Burrata open into several bites. Place between prosciutto and grilled peach wedges. Add a touch of fresh ground black pepper.
Notes
If you can't find Burrata at first try but still craving to try this salad, you can use fresh Mozzarella cheese instead of Burrata. It'll still come out yummy, but not as so as with real Burrata cheese.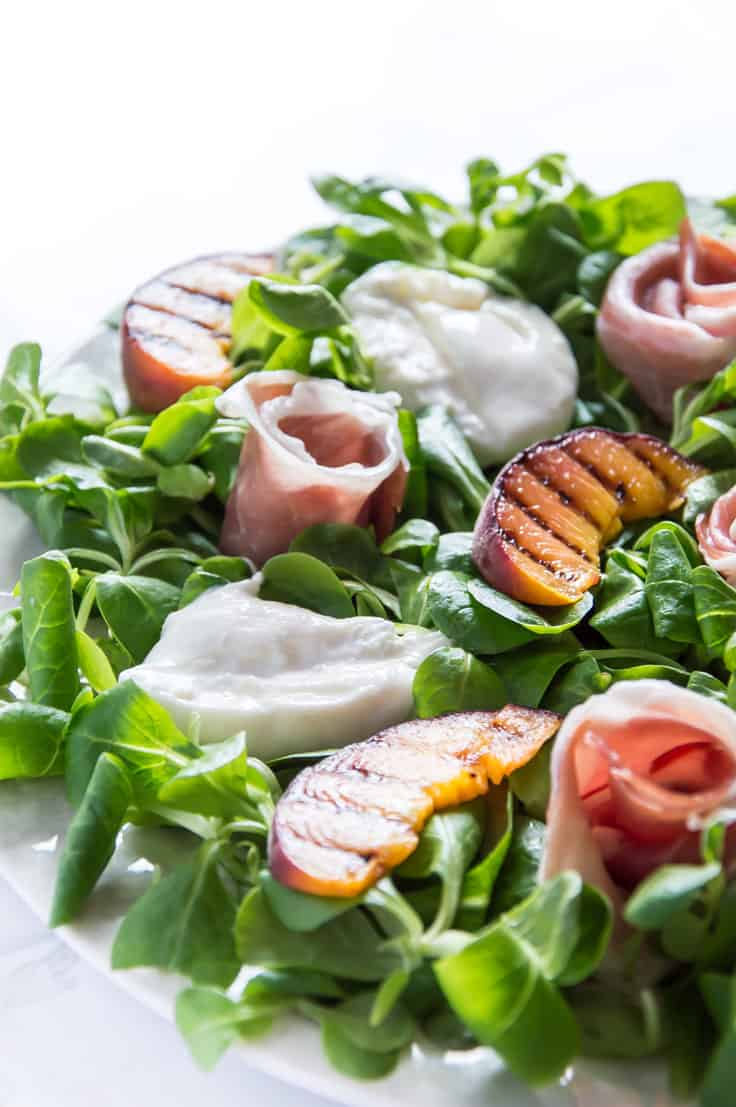 Enjoy!
Curiousity: 'Burrata' means "Buttered" in Italian.