Garlic butter shrimp is an easy and flavorful combination for a good seafood pasta condiment.
So when I fist made it, I knew it was going to be good, but I totally didn't expect it's going to be THAT good.
Like finger-licking-good!
Sweet pea cream sauce pairs wonderfully with buttered shrimps. But the best part is when this sauce meets pasta.
Especially with Rigatoni, or any other kind of streaked pasta, the sauce fills in the external streaks and inner cavity and you can feel it with every piece you put in your mouth.
If you love shrimps – Rigatoni with garlic butter shrimp, coated with sweet pea cream sauce will be your new pasta favorite.
It's definitely a few levels up from any shrimp pasta you've EVER tried!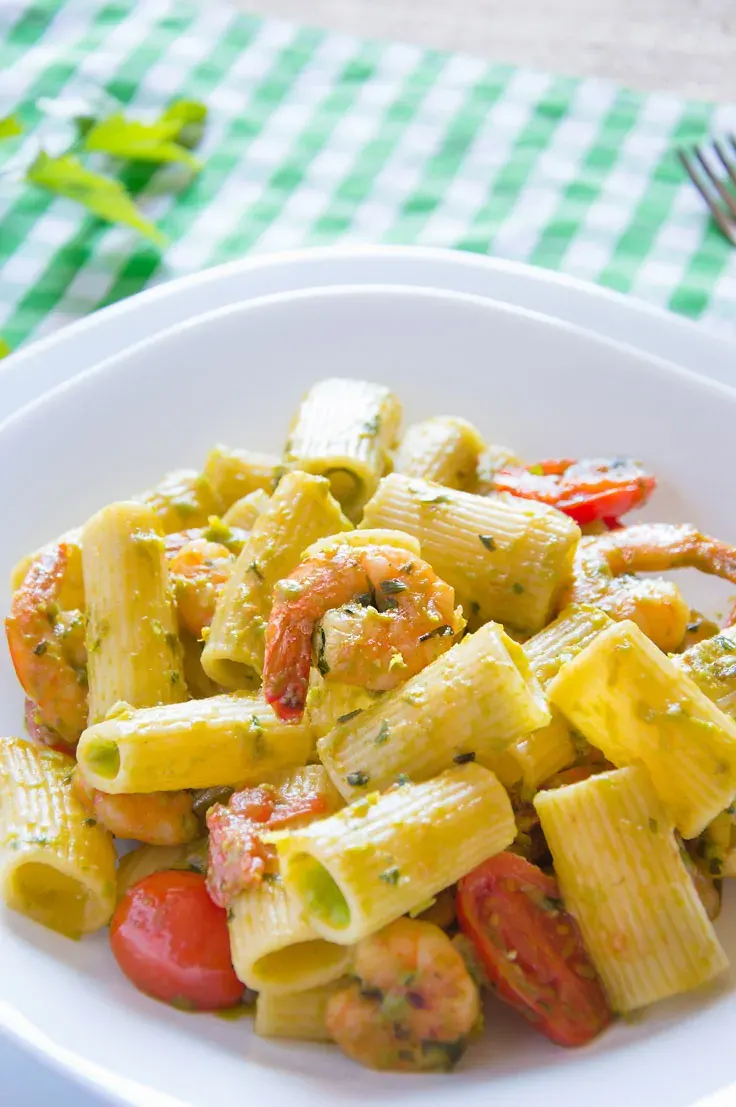 Full Recipe
Rigatoni with Garlic Shrimp & Pea Cream Sauce
If you love shrimps - Rigatoni with garlic butter shrimp, coated with sweet pea cream sauce will be your new pasta favorite.
Print
Pin
Rate / Comment
Ingredients
6

oz

rigatoni pasta

1

cup

packed / 8 oz shrimp

1 ½

cup

sweet peas

fresh or frozen

10

cherry/ plum tomatoes

cut in halves

4

large garlic cloves

1

shallot

finely chopped

⅓

stick

/ 1.5 oz butter

Handful of parsley

chopped

Salt, pepper

to taste
Instructions
Pasta
Start by prepping water for pasta and cook pasta according to directions on the package. While water is boiling and the actual time when pasta is being cooked prepare the sauce.
Pea Cream Sauce
Slowly brown chopped shallot in a skillet pan with a few tablespoons of olive oil.

When the onion starts to become opaque, add green peas. If you are using frozen peas non need to defrost them prior to cooking. Just add as they are directly from the freezer. Cook for about 5 minutes, stirring from time to time. Add salt and pepper to taste.
Garlic Butter Shrimp
In a large skillet pan (use the same one you've cooked shallots and peas in) melt butter with a few drops of olive oil. Add garlic cloves crushed with the back of the knife. Simmer for a minute or two until garlic starts to become fragrant.

If you like a stronger taste of garlic, feel free to mice the garlic cloves.

Add shrimps, previously peeled and deveined. I like to leave the tip of the tail on. Looks much better on the plate.
Once shrimps have been cooking for about a minute, add cherry or plum tomatoes cut in half.


Stir well and continue cooking for another 3-4 minutes.Add a handful of chopped parsley at the end

By this time your pasta should be cooked perfectly 'al dente'.

Drain it preserving some cooking liquid.

Add pasta and pea cream sauce to the pan with garlic butter shrimp.

Stir everything well adding a bit of liquid to let the pea cream spread well over pasta.

Flip pasta in a pan. Clean up the mess, start cooking all over again. Just kidding 😀

Flip or stir it's up to you, the goal is to get pasta flavored with the sauce.

Serves immediately while pasta is still hot.
Notes
Instead of rigatoni you can use almost any other kind of short pasta. Only recommendation is to use streaked pasta instead of a smooth one. For example, Penne Rigate instead of Penne Lisce. And of course, pair it with your favorite white wine.
Buon Appetito!