Amaretti cookies are probably the world's most famous Italian cookies out there.
And for a good reason!
Slightly crunchy on the outside they're perfectly chewy gooey inside.
With the first bite feel bitter sweet almond flavor coating your pallet.
Sweet Italian wines like Passito or Moscato Dolce is the best company for amaretti, but a cup of espresso will not hurt either 😉
In the original recipe instead of almond extract you should use approx 20-25% from the total quantity of almonds – "armelline" – bitter almonds or apricot kernels.

By the way, this is where the name Amaretti is coming from ("amaro" in Italian means bitter).
Amaretti are widely spread in all regions of Italy and in each you'll find a slight variation on the ingrdients. Some like to add a pinch of vanilla, others add lemon zest.
But originally, there were just two authentic versions of Amaretti.
Amaretti di Saronno (Lombardy region) and Amaretti di Sassello (Liguria region).
The first, Amaretti di Saronno, remain crispy and dry. They're often used as an ingrdient in other Italian dessert recipes.
The last, Amaretti di Sassello, on the contrary remain chewy and softer. And these are exactly what we're making today.
Notice, there is NO flour whatsoever, so amaretti are 100% gluten free.
There are two ways how you can make them in your own kitchen.
Using almond flour and powdered or confectioneers sugar. In this case there is no need for a food processor.
Use whole peeled almonds and regular sugar. Make a fine grind flour with a blender of food processor.
NOTE: Following the second method you can either choose to toast your almonds in the oven or leave them as they are. Flavor and color will be slightly diferent, but it's not a game changer at all. More of a personal preference.
IMPORTANT
Now, armelline are pretty hard to find, so I'm adding almond extract instead.
However, if you DO happen to find them or get apricot kernels online, grind together 5 oz of apricot seeds together with almonds (or approx. 20% of total almonds weight) and skip the almond extract.
Trust me, it's worth it!
Amaretti are really quick and easy to make.
Here's a quick photo step-by-step overview. Note the consistency of the dough.
The secret to beautiful white balls with crinkles – LOTS of confectioners sugar. Don't tap of the access or smooth it out with your hands. Powdered sugar should remain fluffy on the cookie.
Full Recipe
Amaretti - Italian Chewy Almond Cookies
Amaretti cookies are probably the world's most famous Italian cookies.
And for a good reason! Slightly crunchy on the outside they're perfectly chewy inside.
Print
Pin
Rate / Comment
Ingredients
Amaretti dough:
20

oz

peeled almonds

OR 20 oz almond flour

1 ⅔

cups

sugar

OR 12 oz confectioners sugar

1

tsp

almond extract

OR 5 oz bitter apricot kernels

5

egg whites

1

pinch

salt
Instructions
Almonds
If you're using whole peeled almonds, toast them in the oven until lightly brown. This will give a darker color and more bright flavor to amaretti.

Once almonds reach desired color, cool them completely.

Pulse almonds and bitter apricot kernels (if you opt to use those as in traditional Italian recipe) with sugar in a food processor as finely as you can.

NOTE: if you are using almond flour, use confectioners sugar instead of regular sugar. This way you don't need to use a food processor. Simply mix everything in the bowl.

Add almond extract.
Egg whites
Beat egg white with a pinch of salt until completely white and fluffy.

Start to fold egg white into sugar and almond mix. Add a couple of table spoons at a time. You should reach silky and stiff consistency of the cookie dough.


NOTE: You may not need to use all egg whites, just enough to get the dough together.
Rolling cookies
Sprinkle work surface with some powdered/confectioners sugar.

Pinch off some dough and roll it into ⅔ of an inch rope.

Using a dough scraper cut the rope into ⅔ of an inch pieces.

Roll each "pillow" giving it a ball shape (size of a walnut) and roll it in generous amount of confectioners sugar.

Place each cookie on a baking sheet lined with parchment paper.

Decorate with an almond nut (optional).

Bake in preheated to 350F oven for 12-15 minutes, just until inside the crinkles amaretti become lightly brown.
Don't you want a bite? 😉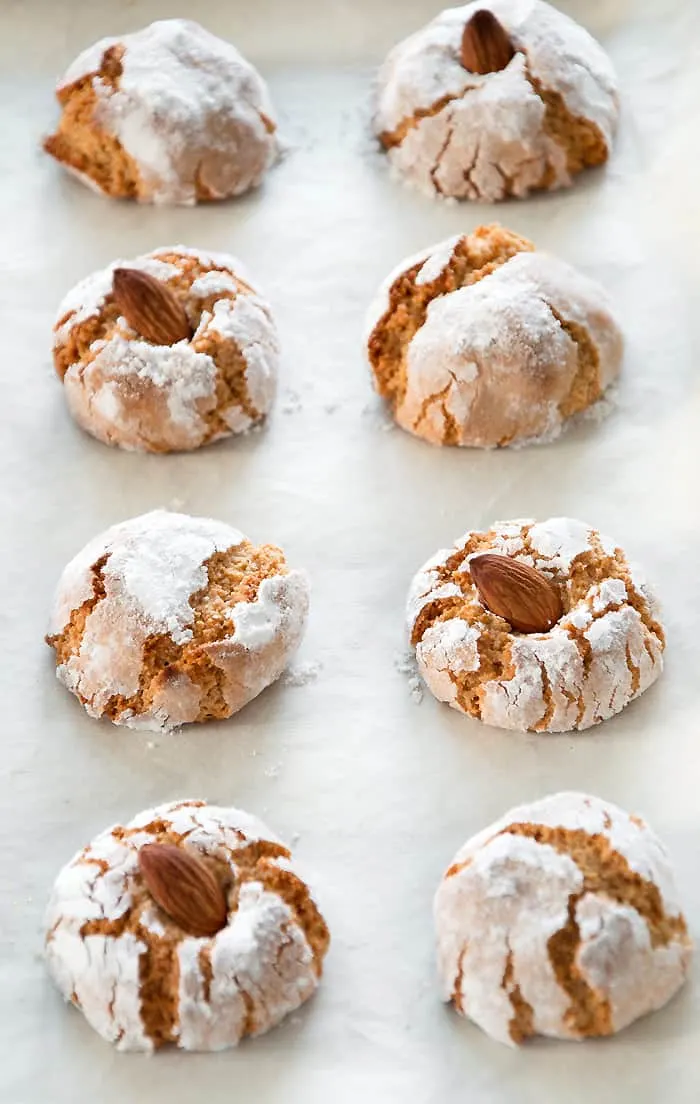 Here's an idea: make a bigger batch of these.
Put in a cookie box, wrap in nice paper and gift to someone you care about.
I bet no one expects such a treat 🙂





Happy Holidays!