Times and times these juicy and tender lemon chicken cutlets had made an easy, light and absolutely delicious dinner.
If you've ever been struggling in doubts how to prepare easy and yummy chicken breast, look no further. Just be sure to try this simple and zesty Italian style chicken cutlets.
Without a doubt, they'll become one of your go-to dinner recipes.
There a few tips I'd like to share before we start:
Bread Crumbs. You can use Panko, homemade, breadcrumbs with curcuma (gives a nice yellow color), fine grind, medium kind, any. Just any kind of breadcrumbs will work. Only keep in mind the large the grind the more breadcrumbs you'll need. In this recipe the quantities a given for a medium-fine grind.
Chicken Cutlets. The main thing about chicken cutlets is of course how they are sliced. The thinner the slice the faster they'll cook. I don't recommend going too thick on the slices. But this is just a matter of personal preferences. By the way these lemon infused cutlets can be made with a turkey meat. Or mixed.
Cooking Method. What's so amazing about these cutlets is they can be moth baked and fried. Choice is all yours. They'll be crispy and tender either way.
There's also a little secret I'll share in the end, that make a HUGE difference.
OK, enough teasing, let's see what ingredients we need.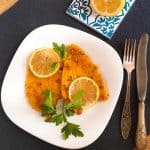 Breaded Chicken Cutlets - Italian Style
One of those classics that NEVER fails. Breaded Lemon Chicken Cutlets ready almost in no time.
Print
Pin
Rate / Comment
Ingredients
1

lb

chicken cutlets

2

cups

bread crumbs

¼

cup

parsley,

chopped

¼

cup

lemon juice ( 1 lemon juiced)

3

tbsp

extra virgin olive oil

Salt to taste
Instructions
Quick lemon marinade
Squeeze 1 lemon to get approx 4 tablespoons of lemon juice. It's best to strain it through the strainer, but not absolutely required if you don't have one. Just make sure there are no lemon seeds in the juice or too much pulp.

Add lemon juice to the bowl together with extra virgin olive oil and finely chopped parsley.
Breading and cooking the chicken
When ready start to deep each chicken cutlet in the bread crumb mix. Press the breadcrumbs well into the cutlet on each side. Tap off excess.

At this point you have 2 options:

Bake in a preheated oven at 400F for 15-20 minutes

Fry in the vegetable oil (our option tonight)

Preheat the frying pan with 2-3 tbsp of vegetable oil (enough for 3-4 cutlets).

Cooking time mainly depends on how thin are the chicken slices. The thicker the cut the more time it'll talk to cook them. Same principle apply when baking them in the oven.

Served immediately with mixed greens salad for a lighter version. With rice, baked or mashed potatoes for a more filling meal.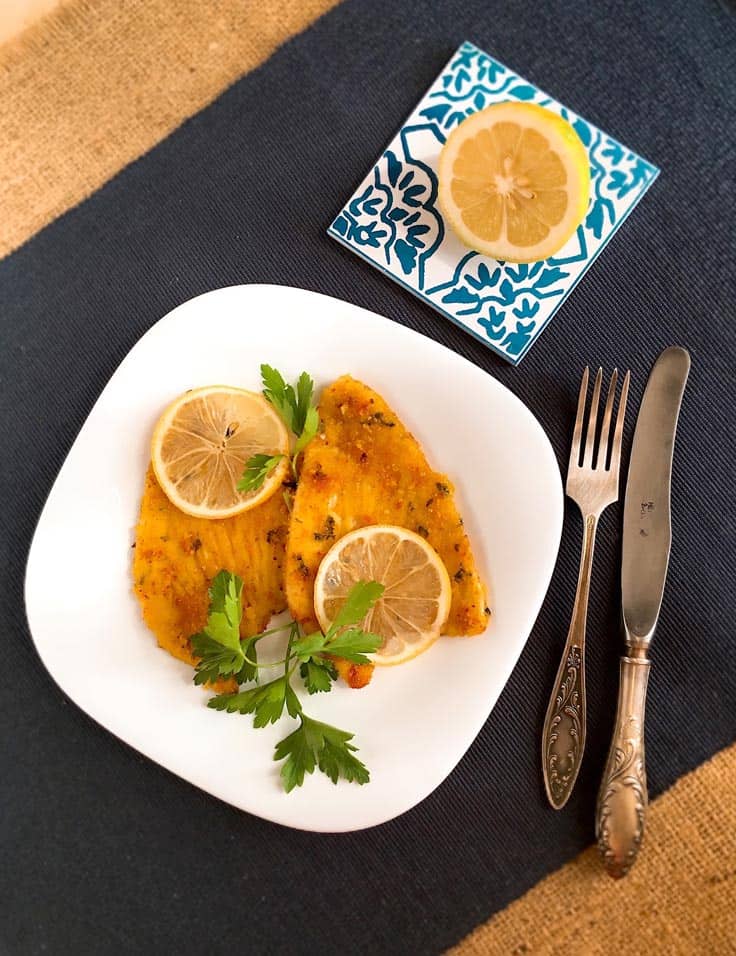 Yes, these chicken cutlets taste best when hot.
BUT. I gotta tell ya, they work really nice even when cold, placed in a chicken sandwich. Just saying 😉
Here's one more trick and the reason why I'm so in love with this recipe.
Whenever I'm making Italian style chicken cutlets I usually double, if not triple all the ingredients.
Once chicken is marinated and breaded, I wrap each piece in plastic wrap and stack them in the freezer.
Boom!
You have a 10 minutes dinner ready if the freezer anytime you need it.
It's really that simple.
And sure enough, it's a perfect alternative for your favorite chicken recipe.
Speaking of alternatives you might also enjoy Juicy Hasselback Chicken – Stuffed with Spinach & Ricotta Cheese next time you are making chicken for dinner.
Love to hear your thoughts. How did you like the lemon twist in this chicken cutlets? Have you tried them with a different kind of meat? Let me know if the comments below 🙂
Buon Appetito!