Homemade Cavatelli In 3 Easy Steps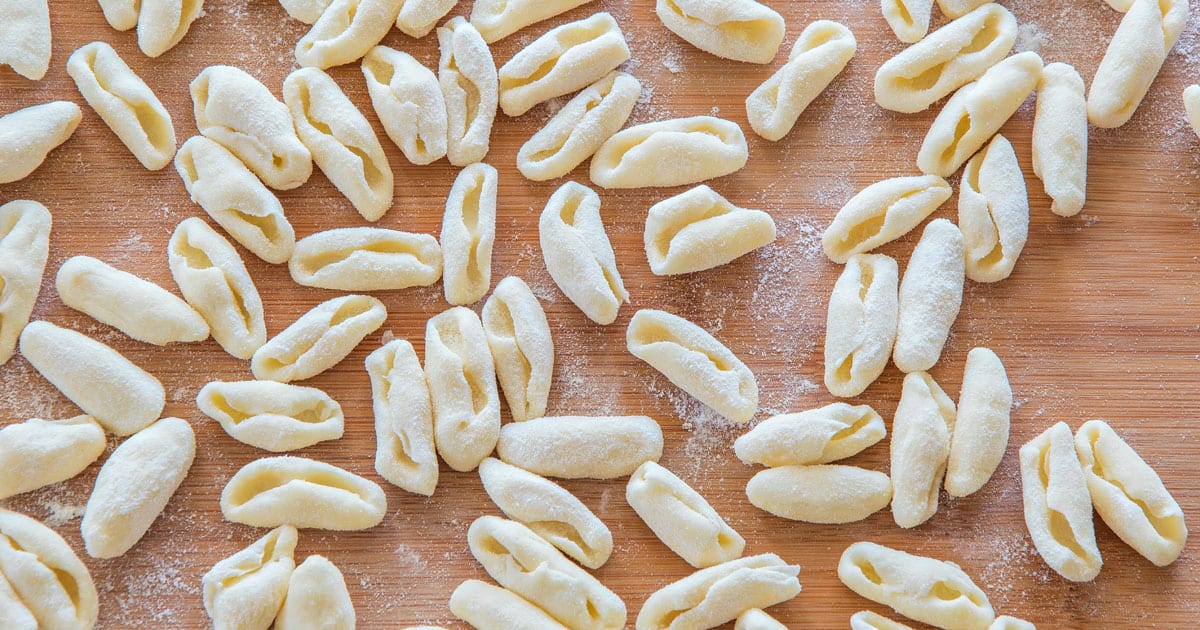 Cavatelli is short type of pasta that resembles a slightly elongated shell.
Typical for Molise and Puglia regions of Italy cavatelli are appreciated all over the world.
If you haven't tried them yet, you CAN, literally in less than an hour.
We'll be forming "shell cavity" with our fingers – a traditional, slightly old-fashioned but super SIMPLE way.
In fact, it takes more time to describe the process than actually rolling the thing.
If you have cavatelli maker you can certainly use it. The dough will be still the same.
Authentic recipe calls for half and half durum wheat semolina flour and farina 00 (Italian "00" flour).
But I find that 1:2 ration makes the BEST cavatelli. Not too sturdy, yet perfectly "al dente" due to semolina flour.
Fresh cavatelli can be stored in the fridge for up to 5 days in a food bag or in the freezer for up to 6 month.
The sauce variety is endless. From simple "al pomodoro" , meat ragu sauce, roasted vegie sauce to ricotta and tomato sauce.
One of my favorites ways to use them is make delicious Cavatelli and Broccoli pasta. All it takes is just 15 minutes pot to the table.
Another favorite, I'm sure you'll fall in LOVE with from the first bite is Cavatelli Pasta with Artichokes. Lemon flavored artichoke sauce paired with fresh homemade cavatelli is simply irresistible!
Anyway, before you get distracted thinking of the sauce, let's see how you make cavatelli by hand 🙂
By the way, cavatelli is pronounced as kah-vah-tell-li.
Ok, now to the recipe.
Knead, roll, shape is literally what it takes to make delicious cavatelli pasta at home.
Homemade Cavatelli In 3 Easy Steps
Knead, roll, shape is literally what it takes to make delicious cavatelli pasta at home.
Instructions
Cavatelli Dough
Measure and sieve both flours and mound it on your kitchen worktop (preferably wooden).

Using your hands, scoop out the center of your mound. Add water and extra virgin olive oil in the center.

First with a fork then with your hands start to pull in flour to combine ingredients and form the dough.
Shaping Cavatelli By Hand
Using a dough scraper cut off a piece from the dough ball.

Roll it into a rope a bit more than ⅓ inch in diameter.

Dust the work surface and the dough with some flour.

That's it!

If the dough pieces start to stick to your finger, dust cavatelli with some more flour.

Repeat the process with the rest of the dough.
I also made a little gif to show you how really easy it is.
How to Freeze Cavatelli
Let fresh cavatelli rest and dry a little bit (15-30 min). Place cavatelli on a tray lined with parchment paper dusted lightly with flour. Don't let cavatelli touch each other. Place the tray in the freezer for 30-60 minutes. Passed that time put them in a freezer bag and store in the freezer.
How to Cook Cavatelli
Fresh made cavatelli cook in less than 5 minutes after coming up floating.
Cavatelli that were kept in the fridge or in the freezer need at least 9-10 minutes to cook.
It's best to taste them after 5 minutes, and let boil for a few more minutes if needed.
Love Cavatelli?
Pin this recipe for later!