Ricotta is a smooth, mildly sweet fresh cheese that's used in a variety of Italian recipes.
Its name literally means "recooked", because it's made from the whey that remains after the curdling process of making other cheeses, such as mozzarella or provolone.
Ricotta cheese has been around for a long, long time! It's been enjoyed by many different cultures throughout history, like the Egyptians, Greeks.
And one of the earliest written accounts of this delicious cheese can be found in Homer's Odyssey!
Ricotta has a unique flavor that's hard to describe. It's light and delicate but also rich, with a touch of sweetness that goes with both sweet and savory dishes.
It's the perfect texture for spreading on toast, folding into pastries, or mixing into sauces.
Plus, it's a super versatile ingredient in the kitchen since it helps keep dishes moist and tender.
Favorite Recipes With Ricotta Cheese
This creamy, luscious cheese adds distinct flavor and texture to a wide array of sweet and savory Italian dishes.
Here are some of the best recipes that feature ricotta's rich goodness.
Savory Recipes With Ricotta Cheese
1. Ricotta Stuffed Mushrooms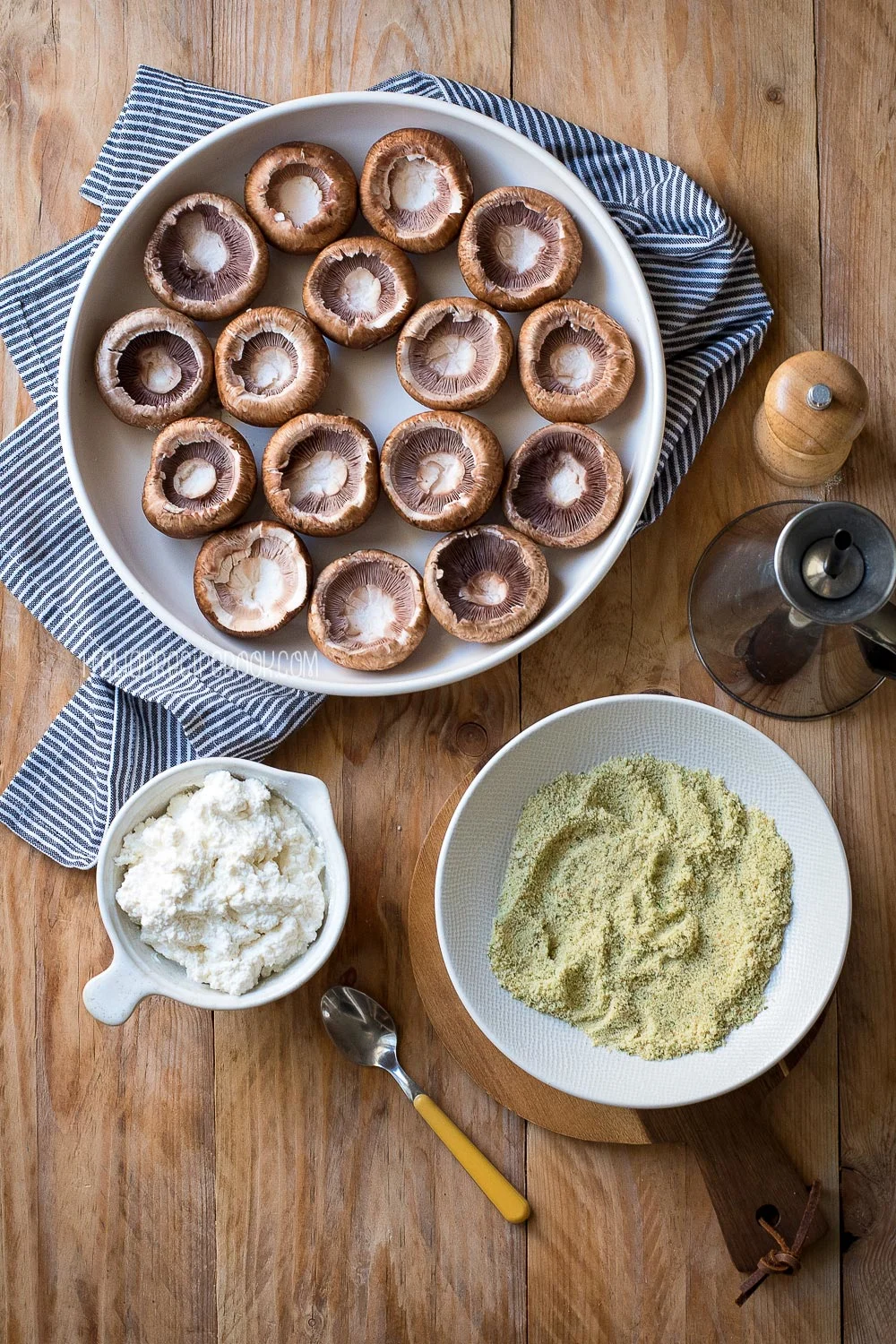 Marrying the rustic charm of mushrooms with the luscious creaminess of ricotta cheese., ricotta stuffed mushrooms are a delicious appetizer that's simple to prepare and hides an explosion of flavor in every bite.
These versatile treats can be served warm or cold. They are perfect for dinner parties, festive gatherings, or even as a delightful midweek indulgence.
2. Ricotta Balls 2 Ways
With their delicate, melt-in-your-mouth texture, ricotta balls are a real treat that's both satisfying and light.
As with the ever-so-classic Italian meatballs, ricotta balls can be prepared and enjoyed in countless ways, from oven-baked to simmered in finger-licking sauce.
3. Ricotta Cavatelli
Ricotta Cavatelli is a delicate, hand-rolled pasta crafted from just two ingredients: smooth, creamy ricotta cheese and fine flour.
Their delightful taste and texture are sure to be a hit with kids and with their quick cooking time, they are perfect for last-minute lunch or dinner.
This recipe is also great to use any leftover ricotta that you might have left after making other recipes. You can make a small batch of ricotta cavatelli and simply pop them in the freezer.
4. Tricolor Crostini With Spinach, Ricotta & Tomatoes
Crostini are an Italian appetizer that typically involves slices of toasted bread topped with an assortment of savory ingredients.
In this variation, the crostini are layered with creamy ricotta cheese and garnished with vibrant spinach and cherry tomatoes, mimicking the iconic colors of the Italian flag.
5. Hasselback Chicken With Spinach & Ricotta Cheese
Hasselback chicken is a mouthwatering dish that proves chicken breast doesn't have to be dull and flavorless.
This particular recipe takes it up a notch with a delicious filling made of spinach and creamy ricotta cheese. The result is a tender and juicy chicken breast with a perfectly crisp exterior, guaranteed to elevate your dinner game.
6. Spinach & Ricotta Ravioli
These little dumplings are stuffed with a creamy, delicate filling that melts in your mouth and quite possibly make you smile with every bite.
What I especially love about this recipe is that you can (read: should) make them ahead of time and simply pop in the freezer. This means all you have to do is boil them, and coat in delicious butter sauce when guests arrive.
7. Pizzagaina
Also known as Pizza Rustica, Pizzagaina, is a savory pie that's popular in Italian households during the Easter holiday.
This hearty and filling dish features a flaky pastry crust and a flavorful mixture of meats, eggs, and cheeses, including ricotta. It's one of those recipes usually handed down from generation to generation, and every family has their own version.
Sweet Recipes With Ricotta Cheese
1.Strawberry Crumble Cake With Ricotta
This is the perfect cake when you're in the mood for a tasty treat without spending too much time in the kitchen. It's quick and easy, and will have everyone raving about your baking skills!
The creamy ricotta pairs beautifully with juicy strawberries, creating a remarkable tender texture that truly melts in your mouth.
2. Lemon Semifreddo
Much lighter than ice cream but equally delicious, semifreddo is a semi-frozen mousse dessert that's perfect for warm summer days.
With its airy texture and tangy lemon flavor, this Italian dessert is a great choice for those who want to satisfy their sweet tooth but don't want to overindulge.
3. Strawberries Balsamic & Ricotta
Featuring a delightful combination of tangy and sweet flavors, strawberries with balsamic vinegar and ricotta cheese make a tasty and elegant dessert.
Strawberries pair beautifully with creamy ricotta, while balsamic vinegar gives a sharp note that ties everything together.
4. Sfogliatelle Ricce – Authentic Neapolitan Dessert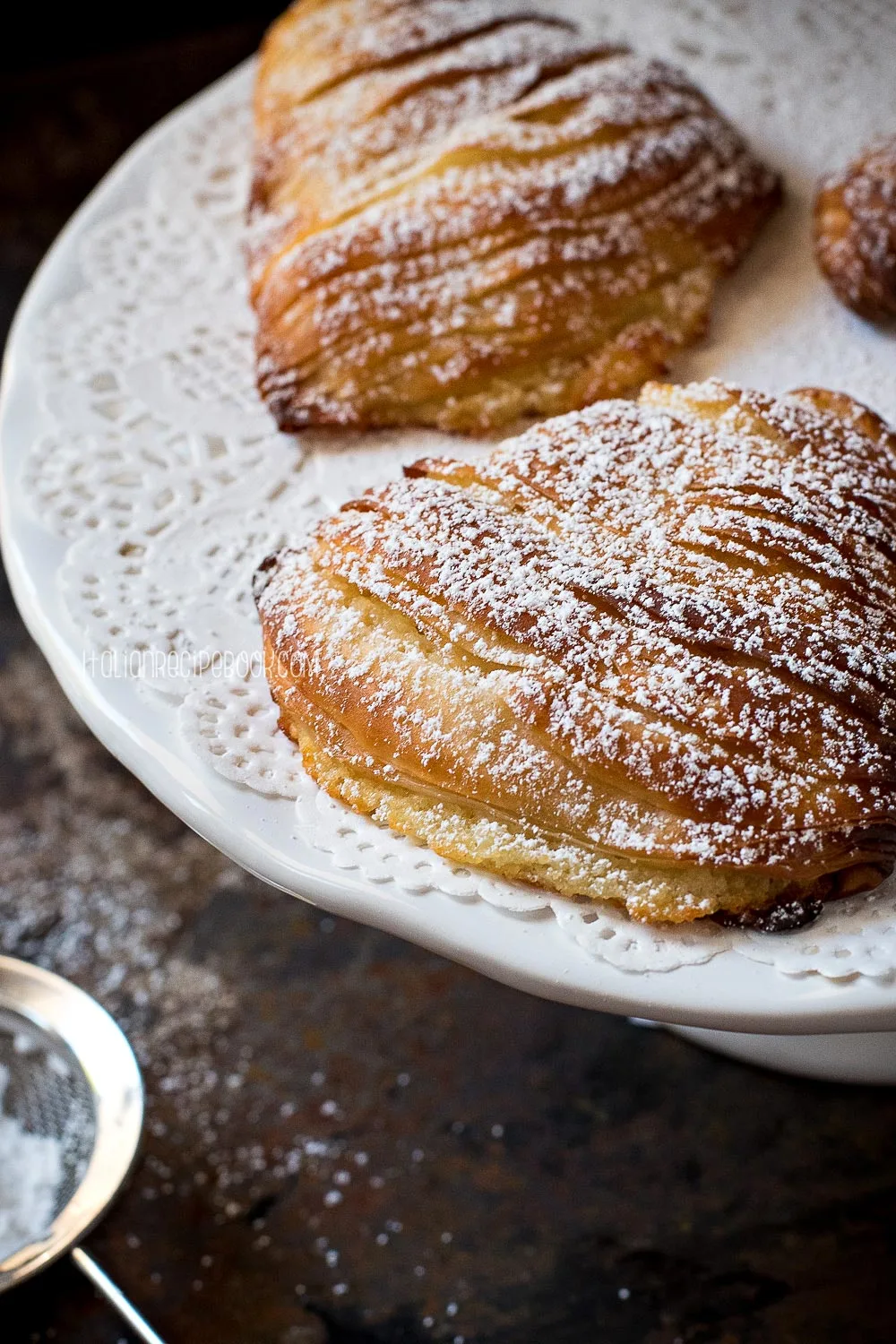 This iconic Neapolitan pastry is a staple of Italian cuisine and one of the best Italian recipes with ricotta cheese.
Think super-thin layers of crispy pastry forming a distinctive shell shape and filled with a delicious orange and cinnamon-flavored ricotta cream filling.
Pure delight!
5. Lazy Sfogliatelle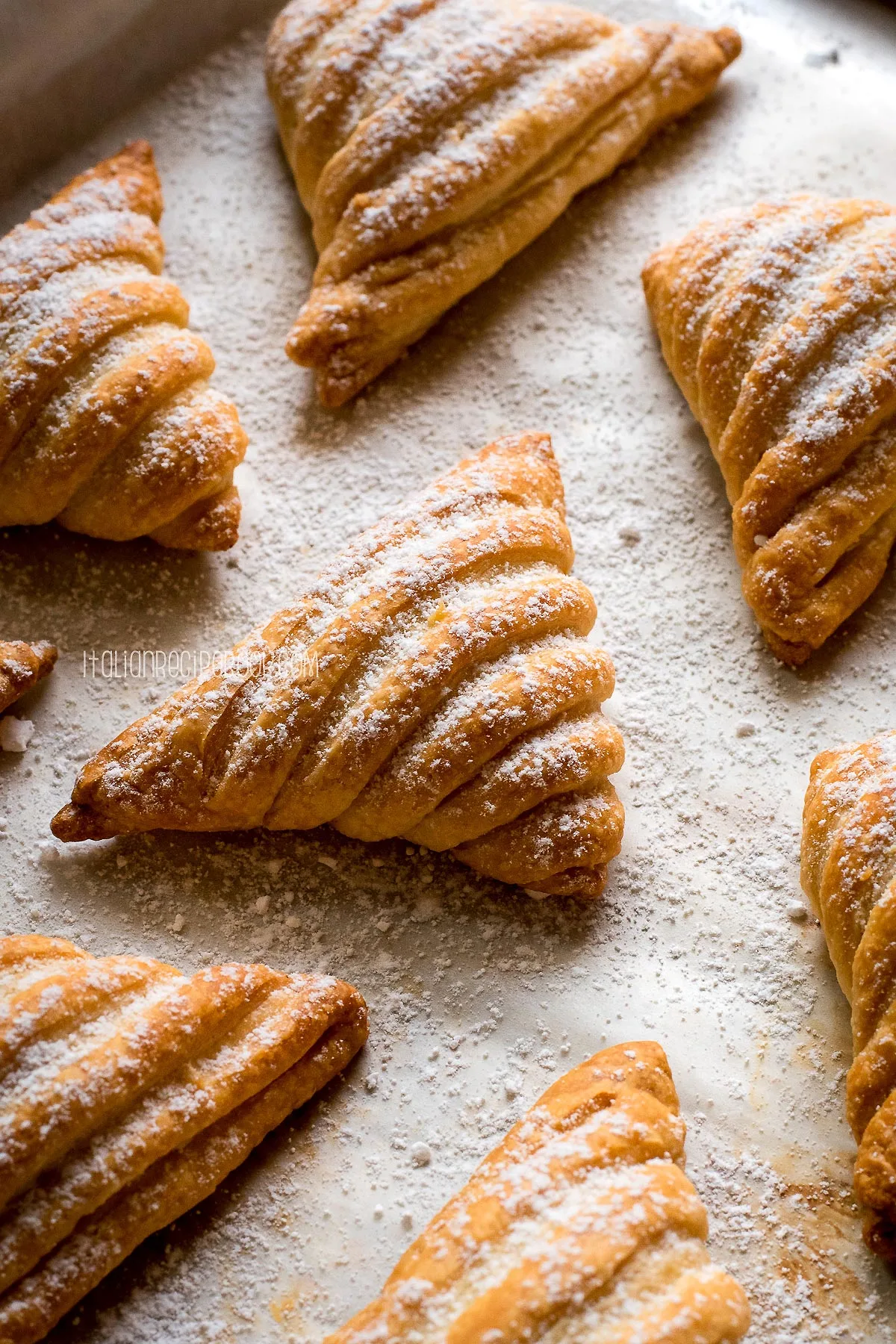 If you find yourself with leftover ricotta filling from your sfogliatelle, but don't have enough dough to make another batch, consider trying a simplified version of the original recipe!
While it's not exactly authentic, this easy and quick version of the sfogliatella can be made with puff pastry instead of the traditional dough, resulting in a delicious treat that is different but equally enjoyable.
With these 12 sweet & savory recipes using ricotta cheese you will never run out of ideas be it weeknight dinner or a party gathering.