If you're looking for simple, delicious, no-fuss dish that can be served in many different ways then you've got to try this green beans and potato salad!
Slightly crunchy green beans are paired with soft potatoes and seasoned with delicious olive oil, vinegar and parsley dressing. Add finely chopped garlic if you like a bit of heat and extra flavor in the mouth.

More reasons to love green beans and potatoes:
Can be served warm or cold depending on the season or personal preference
Perfect as a salad, side dish or even as an appetizer
Everything cooks in one pot
Easy to make, nutrients rich and full of flavors
Tastes great even the next day
Can be used for meal prepping
Add just one more ingredient to change the whole dish! (see below)
Tips And Tricks
Potatoes
I prefer to use small size potatoes as they cook quickly, almost together with green beans. They are also cooked whole which prevents them from falling apart or getting water-logged.
For the same purpose it's best to use red potatoes or yukon gold instead of russet (also known as Idaho potatoes) or baking potatoes.
You can use already boiled potatoes, if you have cooked them earlier for another dish.
If you planning to make cold green beans and potato salad simply cut them in roughly and add to already cooled green beans before serving.
Variations
This is one of those magic dishes that with just one extra ingredient you can alternate flavors continuously.
One of my favorite extras to add:
Boiled eggs cut in half
Canned tuna or salmon
Black olives
Cherry tomatoes and feta cheese
Or combination of any of the above!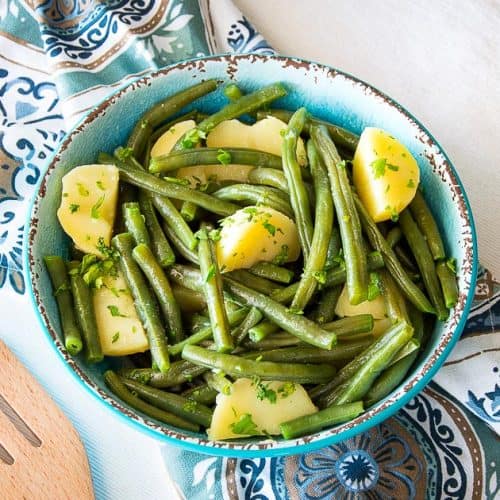 Green Beans And Potatoes – Classic Recipe & 5 Delicious Variations
If you're looking for simple, delicious, no-fuss dish that can be served in many different ways then you've got to try this green beans and potato salad!
Print
Pin
Rate / Comment
Ingredients
1

lb

green beans

, approx 450 g

4

small size red or gold potatoes

, approx 12-15 oz

3

tbsp

Extra virgin olive oil

1

tbsp

White wine vinegar

Fresh parsley

, finely chopped

1

garlic clove

, chopped (optional)

Salt to taste

Pepper to taste
Instructions
Wash and peel potatoes. If using medium size potatoes cut them in half. If using large size potato cut it in quarters. Although I still recommend using small size potatoes.

In a large pot with cold salted water add potatoes and bring them to boil. Cook for 5-10 minutes.

In the meantime,


Wash and trim green beans.


To make the process easier and faster work green beans in batches.

Line up each batch on one side and trim off the ends with a sharp knife.
Flip the beans around, line up the tips again, and trim off the other side.
At this point you can cut trimmed beans in smaller size or leave as is.
Repeat the process with remaining green beans.

Once potatoes have been boiling for a few minutes, add green beans.

Cook everything together for another 5-15 minutes. Check occasionally on both veggies (see Note 1).

Once both are cooked, remove potatoes and quickly pass green beans under cold water to prevent discoloration (optional).

Cut up potatoes into chunks.

In a small bowl mix together extra virgin olive oil and white wine vinegar.

In a large bowl add potatoes and green beans, add dressing, fresh parsley and give a gentle stir.

Top with freshly ground pepper to taste.


Since potatoes and green beans were boiled in salted water you might not need extra salt.
Notes
NOTE 1: Green beans usually cook in under 10 minutes, so you should be able to drain both at the same time. But it depends on the quality of green beans. If potatoes are cooked earlier than green beans you can easily remove them with a skimmer or a fork and let green beans continue to cook.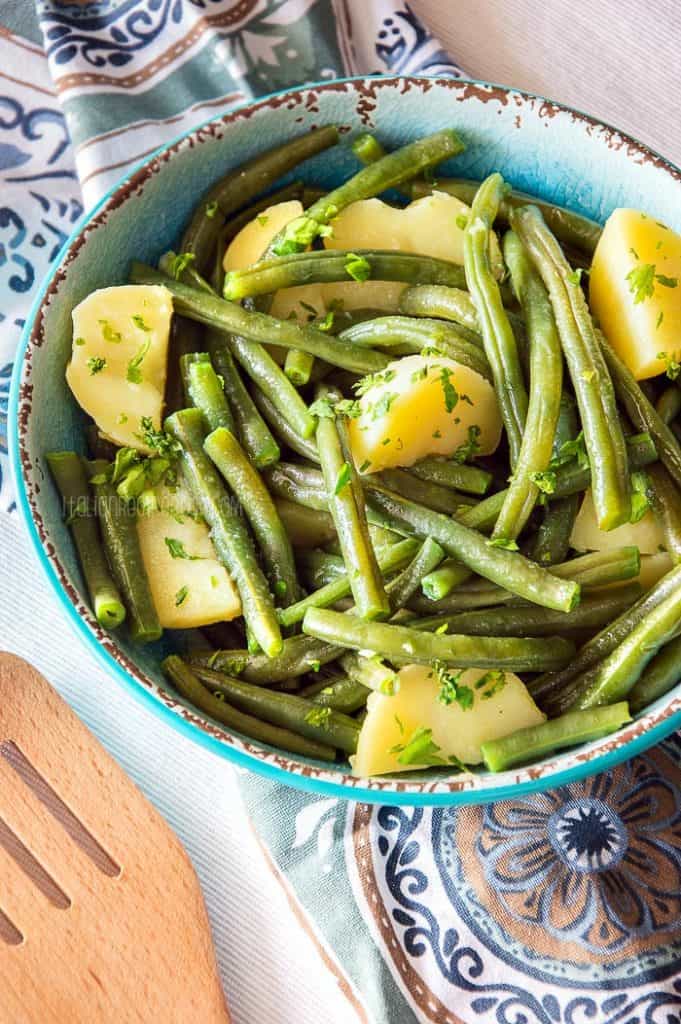 Buon Appetito!